Apple patents a smartphone camera kill switch
Soon your iPhone won't be able to record a concert
This vendor-written piece has been edited by Executive Networks Media to eliminate product promotion, but readers should note it will likely favour the submitter's approach.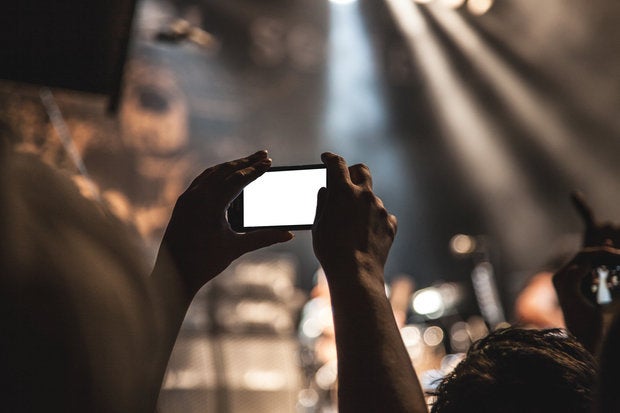 The advent of high-resolution video recording in smartphones has been a boon for fans looking for concert footage on YouTube, but the bands aren't so keen on their concerts appearing for free online before the show even ends.
Of course, it also sucks to be at a concert and have your view blocked by the dozens of smartphones being held up to take pictures and video.
So it seems Apple, which has been trying to cozy up to the music industry, has come up with a fix that sounds good on paper but has potential for misuse.
It has been granted a patent, first filed in 2011 and refiled in 2014, that allows the iPhone camera to detect an infrared signal that will give instructions or information to the camera.
One of the most obvious possible uses for this type of data transfer would be to send a kill signal that would prohibit concert-goers from capturing footage at the live events.
It's obvious because Apple used illustrations in the patent filing to show how the technology could be used to do just that. In the patent request, Apple writes:
In some embodiments, a device may apply a watermark to detected images as an alternative to completely disabling a recording function. For example, a device may receive infrared signals with encoded data that includes a command to apply a watermark to detected images. In such an example, the device may then apply the watermark to all detected images that are displayed or stored (e.g., single pictures or frames of a video).
I can see why musicians want this. Videos of musicians taking a fall, having a meltdown on stage and insulting the audience, or screwed-up songs are fairly common on YouTube. And it's understandable that they don't want a full concert on YouTube when they might be trying to sell a DVD of that show.
Of course, YouTube is a sea of copyright violations to begin with. There are more DVD rips from movies, TV, and live concerts than I can count. Some have been up for years.
What gives me pause is I can see politicians and government using kill signals to shut off phones to prevent embarrassing videos.
There's nothing politicians hate more than accountability, and I can see them blocking video at everything from meetings to campaign rallies.
However, as Fact Magazine points out, there are some very nice positive uses as well. It could be used to send information to your screen as you aim your camera at a museum exhibit, similar to augmented reality.
The question then becomes will Android phones get a similar feature. If they don't-and and I am betting they don't-expect that to become a major differentiator and selling point between the two platforms.
Source: Networkworld