AppleWorks and the capriciousness of nostalgia
By any logic, I should feel the same sense of affection for AppleWorks as I do for ClarisWorks. They were fundamentally the same thing, after all, with the 'Apple' simply replacing 'Claris' because Apple had disbanded the Claris subsidiary.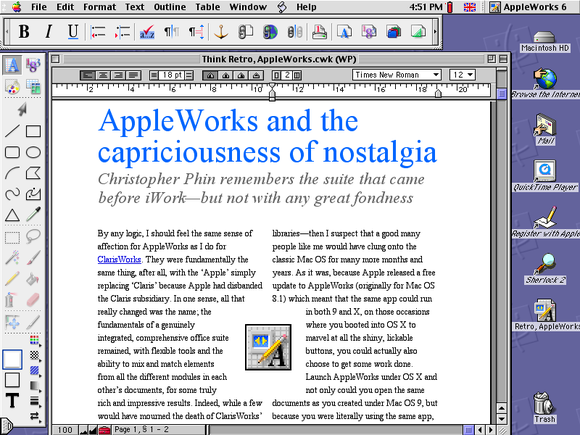 That's why the whole nostalgia thing is weird: it's so personal. Those things that I have a nostalgia for, you may not, and we may only be out by a matter of a few years or even months. Indeed, tech nostalgia is weirder still, since it moves so fast and since in its early days it affected such a small percentage of the population. Nostalgia for a long-running TV show or a long-discontinued piece of confectionary can unite a generation like no laptop or app can. And nostalgia is anyway a lie; you only remember the good stuff, deftly having chosen not to remember the bad.
I peer myopically through my rose-tinted glasses and can focus my warmth and affection on ClarisWorks, but you may have just been hitting that age of delight and potential when AppleWorks came out, whether the version I'm talking about here or the original AppleWorks, which appeared on the Apple II in 1984. And I have to entertain the possibility, however strange and twisted, that there are presumably some people in the world who would go all fuzzy and happy at the mention of Office 98.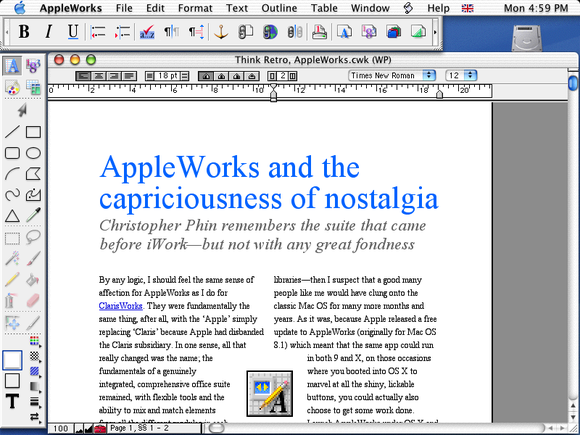 My beloved Douglas Adams once wrote a set of three rules describing our reaction to technologies and, though not intended as such, they act as a perfect summary of why some bits of tech tickle our sense of nostalgia and some don't. "Anything that is in the world when you're born is normal and ordinary and is just a natural part of the way the world works. Anything that's invented between when you're 15 and 35 is new and exciting and revolutionary and you can probably get a career in it. Anything invented after you're 35 is against the natural order of things."
I can only hope, as the author of a column entirely predicated on tech nostalgia, that there are enough people who share my experiences! In the comments below, let us know if you have a greater sense of nostalgia for ClarisWorks or for AppleWorks, or whether you instead really pine for the glory days of Office 98. Trained operators are standing by to offer counselling.
Source: Macworld AU