Learning to skateboard? Check out these iPhone apps
These four apps can help you learn tricks, meet other skaters, and find spots to skate, but each comes with their fair share of shortcomings.
This vendor-written piece has been edited by Executive Networks Media to eliminate product promotion, but readers should note it will likely favour the submitter's approach.
Last summer, at the ripe old age of 32, I rode a skateboard for the first time in my life. Why did I wait so long? I don't know, but from the moment I stood on my niece's skateboard, I knew I was hooked. This summer, my goal is to improve.
Whether you're a new or experienced skater—and whether you started at age 8 or 38—there's an iOS app on the App Store for you that will help you get the most out of your skating, find new spots, and more. Let's take a look at four of them.
SkateSpots
SkateSpots (free) is an app that, well, helps you find skate spots. It's a nicely designed app, and shows not only skate spots but also shops as well.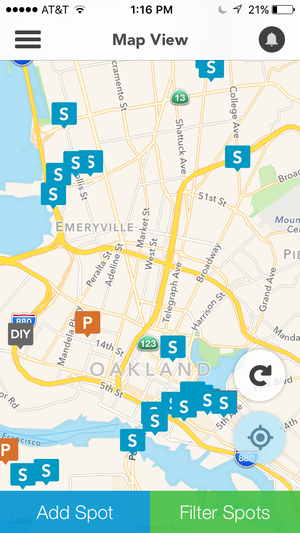 SkateSpots's crowdsourced database includes a decent amount of spots, but since it's crowdsourced, its quality may vary depending on your location.
The app has a few quirks that makes its reach seem limited at first glance: When I first viewed the map, it only showed a smattering of locations in the midwest and Southern California, making it seem as if the database is barren. I also frequently got an annoying "location problem" error message. Zoom in to your location and tap the Reload button (the circular arrow), and more spots should appear. The app is crowdsourced, though, so you can help flesh out the database to include spots in your area.
You can also buy Spotlists via in-app purchasing, which unlock additional skating locations for a small fee (usually $1 or $2).
Shreddit
Shreddit (free) combines a skate spot finder with what's best described a a skate-specific version of Facebook. By default, the main "Explore" screen shows a stream of posts by other users, and you can follow other Shreddit users if you want.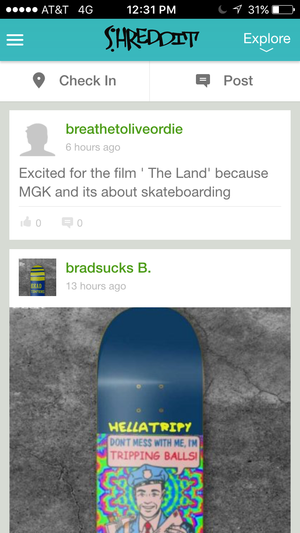 Shreddit combines a map of skate spots with social networking features. Here's the global "Explore" screen on the Wall tab.
The Skate Map lets you look for skate spots, but it's a little hit or miss: Shreddit provides lots of skate spots for some regions, but others are a bit sparse. It's another crowdsourced app, though, so you can easily add your own suggestions. Like SkateSpots, you need to zoom in to your location then tap the Reload button to see spots near you—the app won't necessarily refresh automatically for you, which might throw you off. You can add your own spots, though, and invite friends to join.