Learning to skateboard? Check out these iPhone apps
These four apps can help you learn tricks, meet other skaters, and find spots to skate, but each comes with their fair share of shortcomings.
The app also lets you watch skate videos and tutorials, though you'll need to log in for that. Despite some quirks and limitations, Shreddit has potential, and it's a good choice for keeping tabs on skater friends.
Nike SB
Nike SB (free) is best described as Vine, but for skating: You can view and "like" short clips of others performing tricks, and you can follow other skaters. As is the case with these sorts of social networks, the user-base is relatively small, so the app may be most useful for following your skater friends. At the very least, it can help you track your progress as you learn to skate.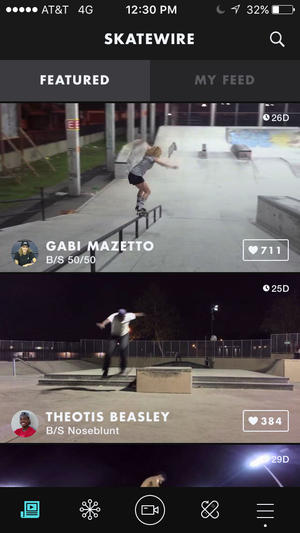 The Nike SB apps's social networking feature.
If you're working on perfecting your tricks, the Skate Tree feature is for you. Here you can watch clips of others performing specific tricks, which may help you figure out how to improve. Some tricks include clips from pro skaters that you can watch frame by frame to make sure you've got your footwork down. I'd love to see the app include additional tutorial clips in the future.
RIDERS
If you're looking for something specifically geared toward helping you learn tricks, check out RIDERS (free). This app lets you learn tricks, track your progress, and share clips with the world. It also goes beyond skateboarding, covering a wide range of activities from surfing to skiing to BMXing.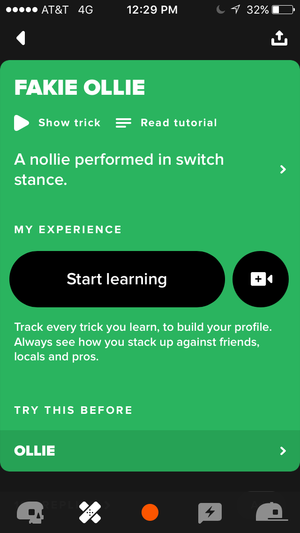 Riders comes with tutorials for lots of tricks—some of which include instructional videos.
RIDERS lets you view and post clips and photos of yourself (and others) performing tricks, and as you might expect, you can like others' photos and videos, and follow other people.
The app features tutorials for a wide variety of tricks, some of which include narrated video tutorials. The tutorials themselves aren't very detailed, so while they may give you a general overview of how to do a trick, they won't be very useful if you're brand new to skating and need to have tricks broken down bit-by-bit. (For that, I recommend checking out Braille Skateboarding's Skateboarding Made Simple ebook and video series.) The Tutorial section's Dictionary is helpful, though, and defines all sorts of skateboard terms.