AMD creates graphics-focused Radeon Technologies Group, taps Raja Koduri for GPU czar
Radeon Technologies Group formed to step up graphics development.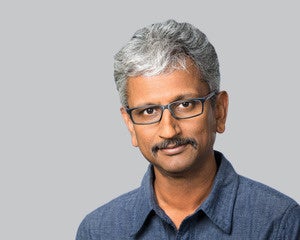 Raja Koduri. Credit: AMD
AMD's separating its healthier GPU business from its struggling CPU business. The company announced Wednesday morning that it was creating a new Radeon Technologies Group that would, essentially reconstitute ATI (the graphics company it acquired in 2006) inside of the CPU company.
The move, company officials said, is designed to give the new graphics unit more autonomy to respond to the new needs in VR and AR, as well as support traditional gaming markets. "We are entering an age of immersive computing where we will be surrounded by billions of brilliant pixels that enhance our daily lives in ways we have yet to fully comprehend," said AMD CEO Lisa Su.
The new graphics group will be more focused and also more flexible, Su explained. "With the creation of the Radeon Technologies Group we are putting in place a more agile, vertically-integrated graphics organization focused on solidifying our position as the graphics industry leader, recapturing profitable share across traditional graphics markets, and staking leadership positions in new markets such as virtual and augmented reality."
Why this matters: AMD purchased graphics company ATI in 2006 and has long worked to meld the GPUs with its CPUs, without much success outside of game consoles. By creating the new Radeon Technologies Group, it would appear the company has decided the graphics company would be better off with more autonomy to pursue new opportunities farther afield from AMD's core business.
Meet the Radeon Technologies Group
Su said long-time graphics hand Raja Koduri would be promoted to Senior VP and Chief Architect and helm the new group. Koduri will report directly to Su and oversee all of the graphics used in AMD's graphics cards, semi-custom and GPU compute products, as well as its APU chips, which combine graphics and CPU functionality.
Koduri's statement in the press release interestingly reads as a call for people to join up—this from a company that has announced wave after wave of reductions over the last few quarters.
"AMD is one of the few companies with the engineering talent and IP to make emerging immersive computing opportunities a reality," said Koduri. "Now, with the Radeon Technologies Group, we have a dedicated team focused on growing our business as we create a unique environment for the best and brightest minds in graphics to be a part of the team re-defining the industry."
Bad times
The realignment comes after a particularly bad quarter for the Sunnyvale, Calif.-based company. It issued a warning in July saying second-quarter revenues would fall by 8 percent. AMD also gave up discrete graphics market share to Nvidia and saw its piece of the pie shrink to 18 percent, while Nvidia's climbed to 81.9 percent.