How to become a LinkedIn power user in five easy steps
Use our guide to squeeze maximum value from the career networking service.

Make careful use of the LinkedIn Contact Finder tool. Simply dumping your entire contact database into your network could prove counterproductive.
Aside from that first "contact dump" of LinkedIn invitations, you should add a personalized message each time you invite someone to connect. The only exception to this rule is if you've known the person forever, and you're positive they'll recognize you. If you've just met the person, you should always include a note reminding them of who you are and how you know each other. If you've never met the person, a friendly and inviting approach is all the more important.
A small, well-maintained network is more valuable than a large network of people you're never in contact with. Make an effort to stay in touch with people in your network, whether it's within or outside of LinkedIn. The easiest way to do this is to send brief messages to people in your network every so often. Your best opportunities arise when they earn a promotion or change jobs, but you can also comment on their status updates, which appear on the main page in your LinkedIn feed. You can also offer endorsements and recommendations, which can prompt them to get back in touch with you--possibly to return the favor.
Speaking of endorsements, this is a recent feature that LinkedIn added to the Skills & Expertise section of user profiles. The tool lets users quickly vouch for other people's skills. LinkedIn is clearly trying to drum up user involvement: Whenever you visit a connection's profile, a large blue box will pop up, encouraging you to endorse that person's skills.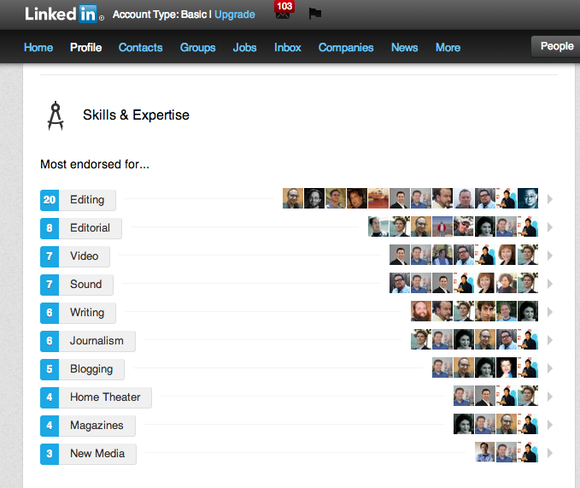 Peer-corroborated skills look good in your profile. Returning the favor when appropriate is a good way to stay in touch with your contacts.
Here's what you need to know: You don't need to endorse all (or any) of those skills. If you'd rather not endorse that person, simply click Skip. If you feel comfortable endorsing only some of the listed skills, delete the ones you don't want to endorse by clicking the X next to them. If you want to endorse the person for a skill that isn't listed, type one in next to the preselected skills.
Don't endorse people for skills you don't think they possess--doing this will reduce the tool's results to useless noise. A good rule of thumb is to treat endorsements as quicker, easier recommendations: If you wouldn't write a two-sentence recommendation about that person's skills, don't endorse them.
Step 3: Be search-savvy
LinkedIn is an excellent tool for both job seekers and hiring managers because it's a huge, searchable database of professionals. But if you're simply opening the job-search tool and typing "software engineer" (or whatever sort of job you're looking for), you're doing it wrong.
Previous Page 1 2 3 4 5 6 Next Page