It's an ideal time to have Linux skills, SUSE exec says
Demand is especially high for developers with kernel know-how, says SUSE's Michael Miller.
PCWorld: What are the top things you look for in a candidate for one of these positions?We believe that in order to get talent, you have to not only be competitive with salary, benefits, etc., you also have to give them the information and independence to do their jobs effectively. We don't believe in micromanaging talent. We believe that talent manifests itself best when open communication and the opportunity to innovate intersect. If you're the type of person that likes to work in that kind of environment, we'd love to have you at SUSE.
Miller: For developers, on the skills side, kernel skills again are always in high demand. We also want employees that are invested and passionate about community contribution. Open source is the foundation of everything we do, so we want our employees to be invested in the spirit behind our core technology.
We also want people that have natural direction, drive, and love to have fun. We're all about results, but we let employees work their own way to be successful.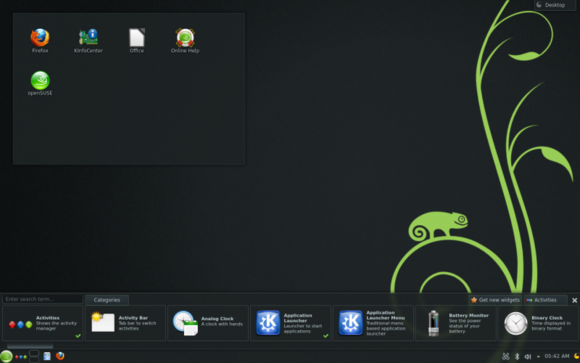 An Open SUSE desktop
PCWorld: What skills would you say are most important for getting the best jobs and salaries in the Linux field?
Miller: Passion, first and foremost. For developers, kernel skills and upstream experience are another key factor. We also value transparency, sharing information, and participating in critical business decisions regardless of rank or function, from development, to marketing, to sales and support. We believe in empowering employees to make the right decisions, so self-motivation is another important trait to have as well.
SUSE's jobs page can be found online. If you need to brush up on your skills, there are plenty of online courses.