Solar industry jobs are growing at 20 times the national rate
There are now more than 705,000 jobs related to the solar power industry.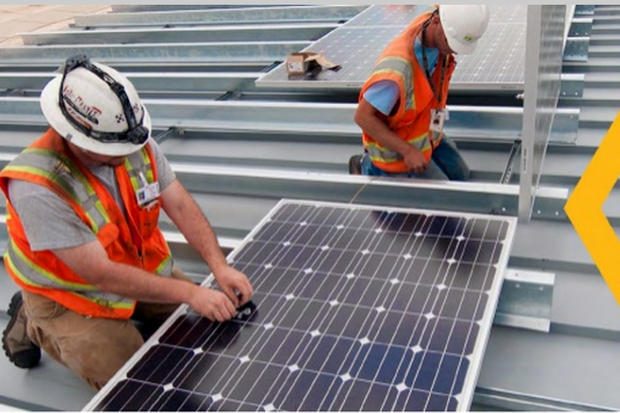 The solar power industry created 31,000 new jobs last year, a growth rate that was 20 times the national average, according to the fifth installment of the Solar Jobs Census, released today.
Since the first Solar Jobs Census in 2010, solar industry employment has grown by 86%.
The new Solar Jobs Census showed that the installation and maintenance of solar power now supports more than 173,000 jobs. Accounting for some additional jobs in the component and materials supply chain, as well as the industry's spillover effects, there are now more than 705,000 jobs related to the solar power industry.
Within a few months, the industry will also be providing twice as many living wage jobs for each worker compared to the declining coal mining industry, according to the report.
In addition, the solar installation sector added nearly 50% more jobs in 2014 than were created in both the oil and gas pipeline construction industry and the crude petroleum and natural gas extraction industry.
In 2013, the solar power industry added 23,682 jobs, a 19.9% increase over the previous year.
The George Washington University's Solar Institute, a research partner on the National Solar Jobs Census 2014, as well as The Solar Foundation and BW Research Partnership, a market research firm, performed the research.
The research showed that the solar power industry now accounts for nearly 2% of all new jobs created in the U.S. in 2014.
Last year saw a record high number of solar installations -- capable of producing about 4.9GB (billion watts). That's 50% more solar power installed than the previous year.
"The U.S. energy sector is changing rapidly and solar's explosive growth rate indicates solar energy will be a key part of our nation's future energy mix," said Amit Ronen, director of the GW Solar Institute. "Not only did solar create almost two percent of all new U.S. jobs last year, those hires were concentrated in the states where solar is booming primarily because of market-friendly policies."
The data was developed by surveying thousands of solar businesses across the country. The data showed that while salaries vary significantly between different solar industry occupations, the wages paid to solar workers are competitive with similar industries and offer many living-wage opportunities.
Those surveyed also expect strong job growth this year, predicting more than 36,000 jobs will be added over the next 12 months.That would mark the third straight year of 20% job growth in the industry.
With solar system costs likely to continue to decline, due to scale, solar panel prices dropping 80% over the past five years, and innovative financing and business models, market analysts are also upbeat about 2015.