The H-1B positions of Clinton and Trump
Where the two candidates stand on tech-related immigration
The case was dismissed in a New York federal court on a number of issues, including failure to first file an administrative complaint with the government. The case was never heard by a jury.
The Palmer case is just one labor dispute and doesn't definitely speak to what Trump would do as president. But he would be under enormous pressure to moderate his views to adopt more business-friendly reforms.
One of the voices Trump will be listening to is his vice presidential nominee, Mike Pence, the Indiana governor. As a congressman, Pence supported a 2006 bill to increase the 65,000 H-1B cap to 115,000. It included an escalator provision that would allow it to rise in respective years if demand exceeded the cap.
Is there reason to believe Trump will deliver H-1B reforms?
Yes.
Laid-off Disney IT workers have spoken at Trump rallies, and Trump has raised the visibility of displaced IT workers to a new level in a presidential campaign.
Trump's visa platform was drafted with the help of U.S. Sen. Jeff Sessions (R-Ala.), who was also the first U.S. senator to endorse him. His H-1B reforms are the same type of reforms being sought in a number of bills.
Sessions heads the Senate's immigration subcommittee, and is part of a group of bipartisan senators pushing for visa reforms. Sessions would likely keep a President Trump focused on reform.
Can Clinton be trusted to reform the H-1B program?
No.
Let's be clear: Clinton hasn't even suggested the idea of reforming the H-1B visa program.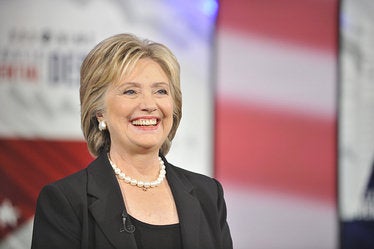 Chris Usher/CBS
Former U.S. Secretary of State Hillary Clinton during the CBS News Democratic Presidential Debate at Drake University in Des Moines, Iowa, on Nov. 14, 2015.
Clinton doesn't mention the visa in her platform. It doesn't come up in the Democratic party's platform. Sen. Bernie Sanders (I-VT), who talked about the need for a H-1B visa reform in his campaign, didn't mention the issue in his recent endorsement of Clinton.
The only time that Clinton expressed any concern about IT workers was an interview this week with Vox. She said it was "heartbreaking" when IT workers must train their H-1B replacements.
But Clinton probably understands the importance of H-1B visa to India. While in Congress, Clinton co-founded and co-chaired the Senate India Caucus. She has had working ties with Tata Consultancy Services (TCS), one of the largest IT services firms in India, and that continued through her tenure as secretary of state. Ratan Tata, then chairman of Tata Group, a conglomerate whose holdings include TCS, was co-chair of the U.S.-India CEO Forum.