10 cool ways tech companies give it up for charity
The philanthropic landscape is vast, and finding the right charitable fit for a company takes time.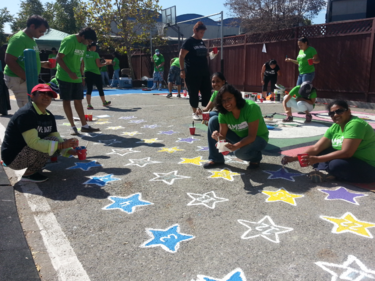 AMD employees in Sunnyvale, Calif., volunteer at InnVision Shelter as part of AMD Cares Global Day of Service.
AMD, too, celebrates its AMD Cares Global Day of Service. Employees around the world give back to their communities through company-sponsored volunteer events. This year's event took place on September 29 and benefitted charities including United Way, Austin Pets Alive, and Lady Bird Johnson Wildflower Center.
For its part, NetSuite last month held its first Global Impact Week, which saw NetSuite employees participate in a week-long campaign of giving back in their local communities around the world.
Offer flexible timing
Some companies opt to let employees volunteer on their own timetable.
VoltDB's employees are encouraged take one day each quarter, with full pay, to work on their charitable passion. In addition, the company organizes quarterly charitable activities that the entire company can join.
"We're not a big organization. For us, that's a significant investment," says Bruce Reading, CEO of the in-memory database company. "But [being charitable] is a core belief that we are promoting aggressively because I believe it makes us stronger and more effective as an organization."
Network solutions provider Ciena grants all employees one extra day of paid leave each calendar year so they can perform service for a charity or education-oriented nonprofit organization in their local community.
To encourage employees to take part in philanthropic activities, Rackspace gives all of its employees 24 hours of paid time off per year to spend volunteering in whatever capacity they choose. If they want some guidance, employees can volunteer through the managed cloud provider's Rack Gives Back program, which plans single and group volunteer opportunities.
Make it a habit
We connected with some tech companies that make volunteering a habit by scheduling monthly or even weekly opportunities for employees to donate their time and talent.
Workspace learning specialist Grovo has Fridays for Good. The first Friday afternoon of each month at Grovo is reserved for employees to take paid time away from work and participate in service events around the city.
Every Monday at an elementary school in Framingham, Mass., employees from OnProcess Technology bag produce for 50 families so that they can have free vegetables for the week. The initiative is part of the company's employee-led OnProcess Make a Difference program, which is focused on helping local communities.
Keep it fun
TE Connectivity sponsored an annual tricycle race fundraiser put on by United Way of the Capital Region.

TE Connectivity employees race tricycles to benefit United Way of the Capital Region.
Previous Page 1 2 3 4 5 Next Page