BitCam and Exify: iPhone apps with a different approach to photography
BitCam recaptures dithered pleasure, while Exify X-rays modern snaps.
This vendor-written piece has been edited by Executive Networks Media to eliminate product promotion, but readers should note it will likely favour the submitter's approach.
I've always had a problem with retro camera filters. Taking pictures with increasingly better modern phones' cameras and then rubbing digital dirt on them and leaving them virtually out in the simulated sun always seemed to me to be about the conflict between stark perfection and the quality of memory. We remember the past as slightly faded, orange-tinged photos, and Instagram and others provide a taste of that sense.
I see many fewer artificially aged or worn pictures these days, and the range of filters has expanded into a greater array of interesting photographic effects. The Iconfactory's new BitCam, a nostalgic dithered camera app, would at first seem to be another filter and just a gimmick. It accurately reproduces the look and feel of a 1984-style Macintosh app down to using a similar dithering algorithm to what Bill Atkinson baked into the graphics-primitive QuickDraw system that drove the graphical user interface and drawing programs—and that's now also baked into iOS (part of its Accelerate framework).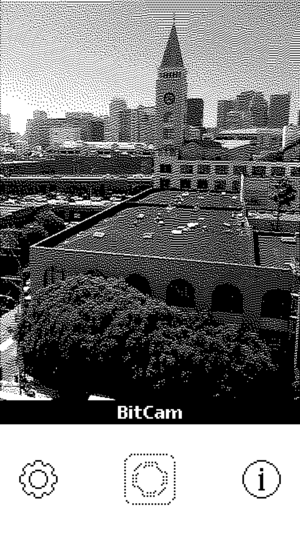 Bitcam
But BitCam isn't a gimmick: Atkinson dithering is an aesthetic, and it's not an accident that Atkinson himself left programming as a full-time profession to focus on his photography decades ago. BitCam is a loving tribute, down to the 1996-era Web page design, that also lets you take pictures that say something differently than any other camera app.
BitCam (free on the App Store) came out just a few weeks ago, and then was joined by Exify ($2 on the App Store), an app that examines photos stored in iOS and extracts and displays in graphical and list form all of the underlying metadata, including location, autofocus, and camera settings. The two make a neat pair, even though the purposes are entirely unrelated.
Artful error
Dithering is a technique that allows conversion from a higher-resolution form to a lower-resolution one by introducing noise to override the "quantization error," which results otherwise in visible bands and artifacts in images and extraneous or distracting tones in music.
In image processing, dithering takes a tonal value and converts it into a concentration of dots that fools the eye into interpreting the approximate shade. The classic Atkinson dither was originally used to convert grayscale and color images and some graphics into 1-bit bitmaps.
Atkinson tweaked older dithering routines to improve the mid-tone areas in order to avoid discontinuity. The rounding errors of conversion have to be diffused into surrounding areas, but precisely in which directions and how far they ripple outward will dramatically affect the resulting image. Think of it as an analog to image feathering, where an edge is turned from sharp and jagged to smooth.