Collaboration in Microsoft Office: Painful but not impossible
Microsoft Office has long been the gold standard for creating, editing, and formatting serious documents.
Microsoft Office has long been the gold standard for creating, editing, and formatting serious documents. Google Docs and other Web-based competitors, however, have outpaced Office by making it easy to share and co-edit documents in real time.
Enter the new Office suites. Released earlier this year, they make up lost ground by letting you collaborate with other people through a mixture of desktop and browser applications. The features are a step in the right direction, but Microsoft's new take on collaboration ultimately fails to be as easy as it should be.
Whether you're thinking about purchasing an Office 365 subscription or buying Office 2013 desktop software--or are already using either one--read on to learn about the agony and ecstasy of co-editing.
I tested collaboration for Word, Excel, OneNote, and PowerPoint, both with colleagues on an Office 365 Small Business Premium account and with people outside our company who didn't even have Office 2013.
Collaborating with outsiders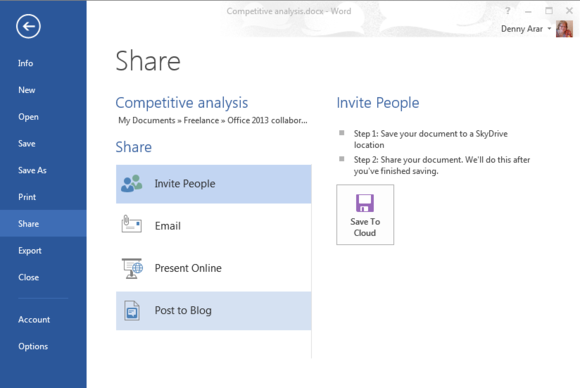 To share a document with collaborators, first you must save it online to SkyDrive.
Through the use of SkyDrive cloud storage and the Office Web Apps, the new Office lets you share and coauthor with anyone inside or outside your organization.
For example, a document creator can invite anyone to view or edit a document in the Word Web App. Go into the File menu and click Share, which brings up options for getting others on board. Basically, you create a sharing link and send it via email or instant messaging, or you can generate email invitations to Outlook contacts you designate. Either way, before creating or sending the link, you must save the document to SkyDrive.

Share work in Word, Excel, or PowerPoint by sending someone a link that authorizes them to view or edit the document.
When the recipient clicks the link, a browser window opens the file in the Word, Excel, OneNote, or PowerPoint Web App. Be aware that even if you've sent a link authorizing the recipient to edit the document, the recipient sees the same pop-up message that all Office apps generate when you open any document via email or Internet download, warning that because the Internet can be unsafe, by default you can only read the document. The recipient must click a button to enable editing--an odd step, since you had created a link specifically empowering him or her to edit the document.
You and your designated co-authors can work on the document at the same time, with a couple of limitations. In Word, for example, you and your colleagues can't edit the same paragraph simultaneously. If you try to do so, you'll get a pop-up message to that effect.