Collaboration in Microsoft Office: Painful but not impossible
Microsoft Office has long been the gold standard for creating, editing, and formatting serious documents.


When you accept an invitation to coauthor a document, it launches in a Web app in read-only mode, even if you have editing permission.
On top of that, you can't actually see the work a co-author has done until that person saves it. You can tell in real time, thankfully, that someone else is working on the document, as the app pops up the names of the co-authors. (Alternatively, click File > Info for a backstage view of who's currently editing.) If the other editor isn't signed in to a Microsoft account, he or she will appear as a generic 'Guest'.
Saved changes don't appear automatically. Rather, Word notifies you that updates are available, and you must save or click on refresh buttons to see a co-author's work. Once you do so, changes appear highlighted in pale green.
Co-authoring works fine even when one person is using the Word Web App and the other is using the desktop app. The same holds true for OneNote, where changes do appear automatically, also highlighted in pale green.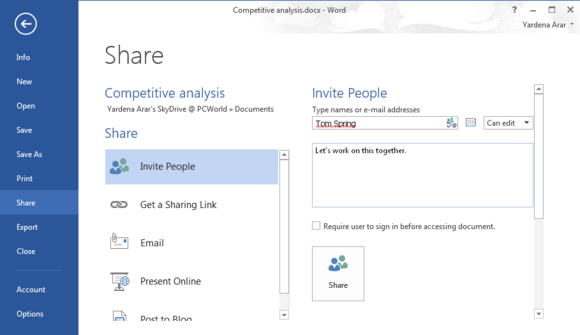 Word, Excel, and PowerPoint 2013 for the desktop let you share documents with coworkers by generating email invitations with either viewing or editing permission.
You cannot co-edit in Excel while one person is working in the desktop Excel. If you try, you'll get a message saying the spreadsheet is locked. But you can co-author in the Excel Web App, which is a lot more limited in functionality. Changes appear automatically only after an author leaves a cell, and since they are not highlighted it isn't always easy to tell what a co-author has changed. But the app does indicate when others are actively editing.
Microsoft recommends that PowerPoint co-authors stick to either the desktop or the Web app, not both at the same time. If one person is using the desktop version and the other is working in the browser, changes might not save properly. PowerPoint changes don't have to be saved, though. Instead, they show up after an editor finishes working with an object, such as an image or text box.
Collaborating with colleagues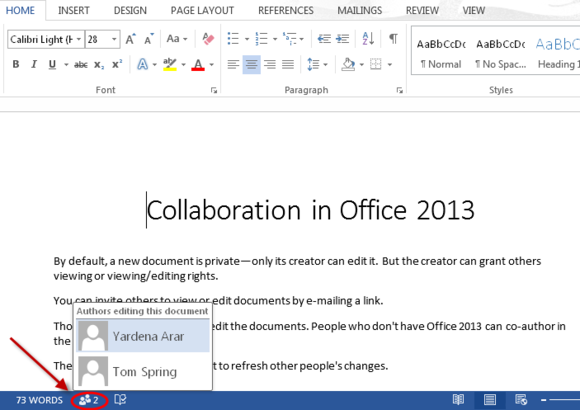 The Office 2013 desktop apps show who is working on your document, within an icon at the lower left of the window.
People working at organizations that have signed up for an Office 365 business plan have collaboration tools that aren't available in the consumer versions. Among other things, Office 365 Small Business Premium and Office 365 Midsize Business provide hosted SharePoint and Lync servers for collaboration and unified communications, respectively.
Previous Page 1 2 3 4 Next Page