Collaboration in Microsoft Office: Painful but not impossible
Microsoft Office has long been the gold standard for creating, editing, and formatting serious documents.
The process of creating documents and inviting coworkers to share them as either viewers or editors is essentially the same here as it is for consumers. There's a quirk you should know about, however. By default, when you first accept an invitation to edit a document, Office 365 launches the relevant Web app, even if you have a desktop installation of Office 2013. To co-edit in the desktop Word, you must click the Edit in Word button within the Word Web App and wait for the program to launch, a time-consuming extra step.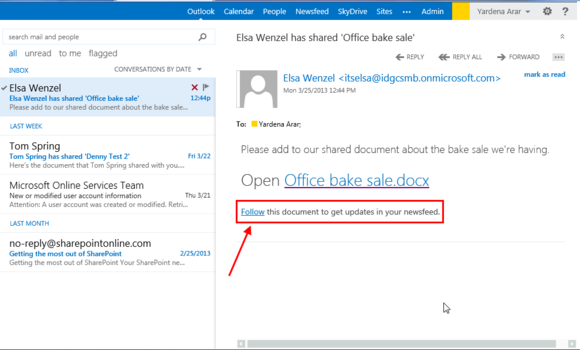 To keep tabs on a document you've been invited to share, click the Follow link in the invitation.
An Office 365 administrator can change this default deep inside the settings for the shared site so that documents launch in the desktop app. It's too bad you can't opt for either the desktop or the Web app before either one launches.
Also, take note that while you might expect the document you've been editing to appear in your SkyDrive Pro workspace automatically, this isn't the case. Documents by default show up only in the SkyDrive files of their creator.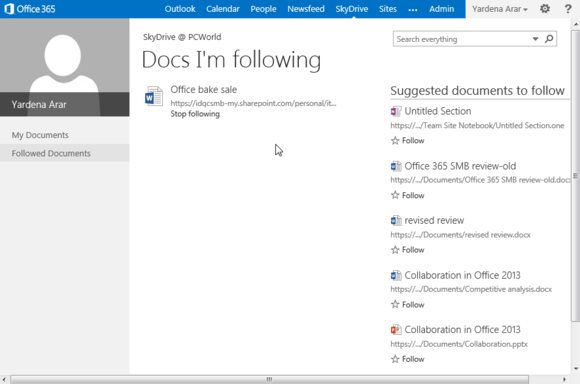 Followed documents provide links to documents others have shared with you. But you can't see the list of followed docs from the default SkyDrive Pro screen.
To revisit a document created by a coworker, you have to click a link to the document. One way is to find the email invitation containing that link. An easier route is to follow the shared file by clicking the Follow option in the original invitation. That action puts a link to the document within Followed Documents in the left navigation bar of your SkyDrive Pro workspace, under My Documents.
If you've set up a newsfeed in your Office 365 profile, you'll be notified about changes to documents you're following. But you have to click Followed Documents to see these files. Microsoft could have made things easier with an interface that showed Followed Documents alongside the user's documents.
Chatting while collaborating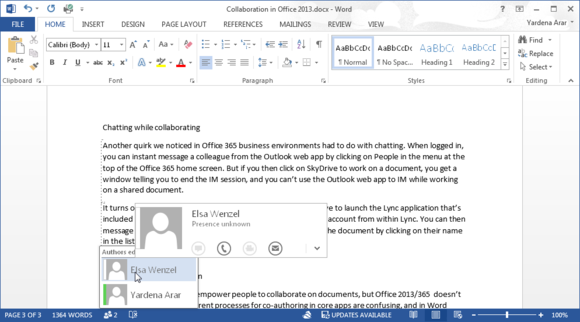 Another major quirk we noticed in Office 365 business environments had to do with chatting. When logged in, I could instant-message a colleague from the Outlook Web App by clicking the People item at the top of the Office 365 home screen. But if I then clicked SkyDrive to work on a document, a window told me to end the IM session, and I couldn't use the Outlook Web App to IM while working on a shared document. Microsoft said this isn't how it's supposed to work.
Previous Page 1 2 3 4 Next Page