Collaboration in Microsoft Office: Painful but not impossible
Microsoft Office has long been the gold standard for creating, editing, and formatting serious documents.
It turns out that there's another way to IM in Office 365: You have to launch the Lync desktop application that's included in the Office 2013 desktop software, and sign in to your account from within Lync. You can then message colleagues who are co-editing documents from within the document by clicking their name in the list of active editors.
Or, at least, you can in theory. In our tests, we found that sometimes the IM icon was grayed out even with Lync showing the other party as being present. Clearly, Microsoft has a lot of work to do to make chat effortless for collaborators. It's difficult to understand the decision to create two chat services that don't integrate with each other, and having to launch a separate application once you're logged in to the Web service is annoying. The erratic behavior of Lync is the icing on the cake.
Bottom line on collaboration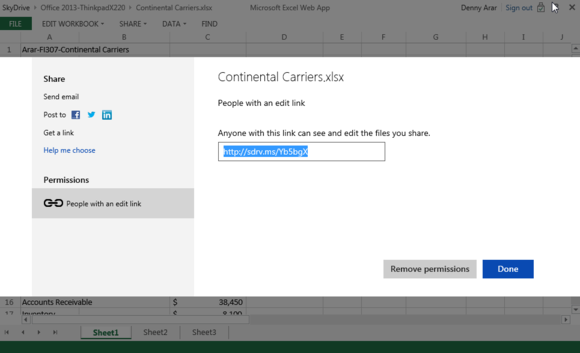 Here's what an invitation to collaborate looks like in the Excel Web App. From here, you can't coauthor with someone using the desktop Excel.
Microsoft clearly wants to empower people to collaborate on documents, but its new Office suites don't make things easy. The various processes for co-authoring in core apps are confusing. In Word, especially, collaboration is slowed down by the requirement that everyone involved must save or refresh documents to see one another's changes. This setup contrasts sharply with Google's word-processing app, which displays changes as users type them.
Document sharing in Office 365 business environments is also needlessly unintuitive, making it hard to find a shared document that you didn't create, or to chat with a colleague while opening a file. It's nice that Microsoft is taking steps in the right direction, but so far these are baby steps at best. If co-editing is a regular part of your workflow, the new Office enables that, but in fits and starts. Either learn these quirks inside and out so that you can work around them, or consider using Google Apps for Business instead.
Previous Page 1 2 3 4