Containers 101: Docker fundamentals
Understand Docker images, containers, and registries and how they deliver the benefits of immutable infrastructure and software reuse
Using this explicit docker commit command, one can create a successive, discrete set of Docker images, each built on top of the previous image. In addition, Docker uses a copy-on-write strategy to minimize the storage footprint of containers and images that share the same base components. This helps optimize storage space and minimize container start time.
Figure 2 depicts the difference between an image and a running container. Note that each running container can have a different writable layer.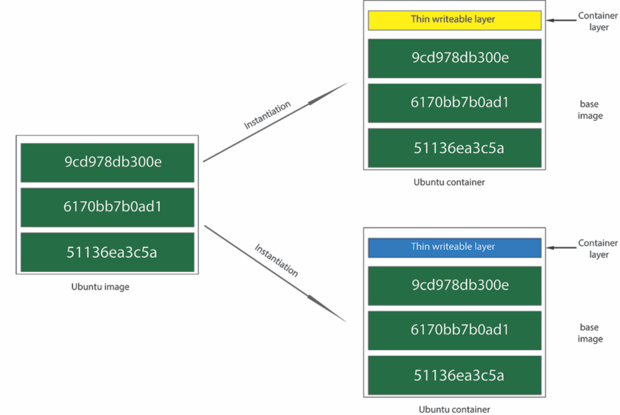 Figure 2: Docker images and running Docker containers.
Beyond the image concept, Docker has a few specific components that are different from those in traditional Linux containers.
Docker daemon. Also known as the Docker Engine, the Docker daemon is a thin layer between the containers and the Linux kernel. The Docker daemon is the persistent runtime environment that manages application containers. Any Docker container can run on any server that is Docker-daemon enabled, regardless of the underlying operating system.
Dockerfile. Developers use Dockerfiles to build container images, which then become the basis of running containers. A Dockerfile is a text document that contains all of the configuration information and commands needed to assemble a container image. With a Dockerfile, the Docker daemon can automatically build a container image. This process greatly simplifies the steps for container creation.
More specifically, in a Dockerfile, you first specify a base image from which the build process starts. You then specify a succession of commands, after which a new container image can be built.
Docker command-line interface tools. Docker provides a set of CLI commands for managing the lifecycle of image-based containers. Docker commands span development functions such as build, export, and tagging, as well as runtime functions such as running, deleting, starting and stopping a container, and more.
You can execute Docker commands against a particular Docker daemon or a registry. For instance, if you execute the docker -ps command, Docker will return a list of containers running on the daemon.
Content distribution with Docker
In addition to the runtime environment and container formats, Docker provides a software distribution mechanism, commonly known as a registry, that facilitates container content discovery and distribution.
The concept of registry is critical to the success of Docker, as it provides a set of utilities to pack, ship, store, discover, and reuse container content. Docker the company runs a public, free registry called the Docker Hub.
Registry. A Docker registry is a place where container images are published and stored. A registry can be remote or on premises. It can be public, so everyone can use it, or private, restricted to an organization or a set of users. A Docker registry comes with a set of common APIs that allow users to build, publish, search, download, and manage container images.
Docker Hub. Docker Hub is a public, cloud-based container registry managed by Docker. Docker Hub provides image discovery, distribution, and collaboration workflow support. In addition, Docker Hub has a set of official images that are certified by Docker. These are images from known software publishers such as Canonical, Red Hat, and MongoDB. You can use these official images as a basis for building your own images or applications.
Previous Page 1 2 3 4 Next Page