Containers 101: Docker fundamentals
Understand Docker images, containers, and registries and how they deliver the benefits of immutable infrastructure and software reuse
Figure 3 depicts a workflow in which a user constructs an image and uploads it to the registry. Other users can pull the image from the registry to make production containers and deploy them to Docker hosts, wherever they are.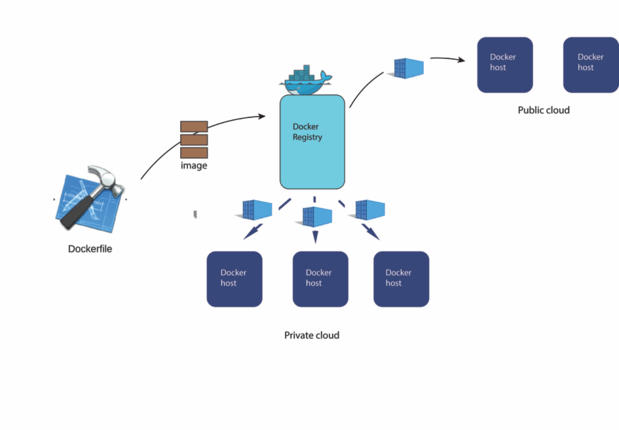 Figure 3: Docker registry workflow.
The immutability of Docker containers
One of the most interesting properties of Docker containers is their immutability and the resulting statelessness of containers.
As we described in the previous section, a Docker image, once created, does not change. A running container derived from the image has a writable layer that can temporarily store runtime changes. If the container is committed prior to deletion with docker commit, the changes in the writable layer will be saved into a new image that is distinct from the previous one.
Why is immutability good? Immutable images and containers lead to an immutable infrastructure, and an immutable infrastructure has many interesting benefits that are not achievable with traditional systems. These benefits include the following:
Version control. By requiring explicit commits that generate new images, Docker forces you to do version control. You can keep track of successive versions of an image; rolling back to a previous image (therefore to a previous system component) is entirely possible, as previous images are kept and never modified.
Cleaner updates and more manageable state changes. With immutable infrastructure, you no longer have to upgrade your server infrastructure, which means no need to change configuration files, no software updates, no operating system upgrades, and so on. When changes are needed, you simply make new containers and push them out to replace the old ones. This is a much more discrete and manageable method for state change.
Minimized drift. To avoid drift, you can periodically and proactively refresh all the components in your system to ensure they are the latest versions. This practice is a lot easier with containers that encapsulate smaller components of the system than it is with traditional, bulky software.
The Docker difference
Docker's image format, extensive APIs for container management, and innovative software distribution mechanism have made it a popular platform for development and operations teams alike. Docker brings these notable benefits to an organization.
Minimal, declarative systems. Docker containers are at their best if they are small, single-purpose applications. This gives rise to containers that are minimal in size, which in turn support rapid delivery, continuous integration, and continuous deployment.
Predictable operations. The biggest headache of system operations has always been the seemingly random behavior of infrastructure or applications. By forcing you to make smaller, more manageable updates and by providing a mechanism to minimize system drift, Docker helps you build more predictable systems. When drifts are eliminated, you have assurance that the software will always behave in an identical manner, no matter how many times you deploy it.
Extensive software reuse. Docker containers reuse layers from other images, which naturally promotes software reuse. The sharing of Docker images via registries is another great example of component reuse, on a grand scale.
True multicloud portability. Docker enables true platform independence, by allowing containers to migrate freely between different cloud platforms, on-premises infrastructures, and development workstations.
Previous Page 1 2 3 4 Next Page