Create Smart Playlists to find which of your songs are Apple Music, in the cloud, and more
Apple Music, your iTunes library, iCloud Music library, iTunes Match...where are your tracks being stored?
If you want to delete some of these tracks from your Mac—but not from your iTunes library—select one or more tracks, right-click, and then choose Remove Download.
If you want to delete all your Apple Music tracks, press Command-A to select all the tracks in this playlist, and then press Option-Shift-Delete. iTunes will ask you to confirm that you want to delete these tracks.
Tracks in the cloud
If you're using iCloud Music Library or iTunes Match, you can create a smart playlist to show you which of your tracks are stored on your Mac, and which are in the cloud. You might want to do this to delete some of the local tracks to free up space on your Mac.
Create a smart playlist with the following condition:
Location is on this computer
Press the Option key and click the + button to add another, nested condition, then click the + button to add two more:
iCloud Status is Matched
iCloud Status is Purchased
iCloud Status is Uploaded
Make sure that Match All of the following rules is selected at the top of the playlist, and that Any of the following are true is selected for the second group of conditions.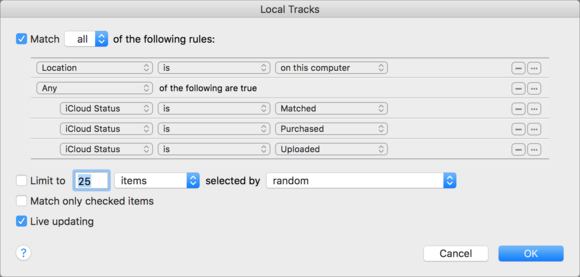 This smart playlist shows which tracks are available in the cloud, but have been downloaded to your Mac.
As above, you can delete the local copies of these tracks by selecting one or more of them, right-clicking, and then choosing Remove Download.
Smart playlists are quick and easy to create, and they help you free up space, or delete Apple Music tracks.