DARPA unified space-sensor networks help keep orbiting junk from slamming into something important
DARPA's OrbitOutlook program brings seven previously separate space sensor networks together to form the largest network of space situational awareness networks ever assembled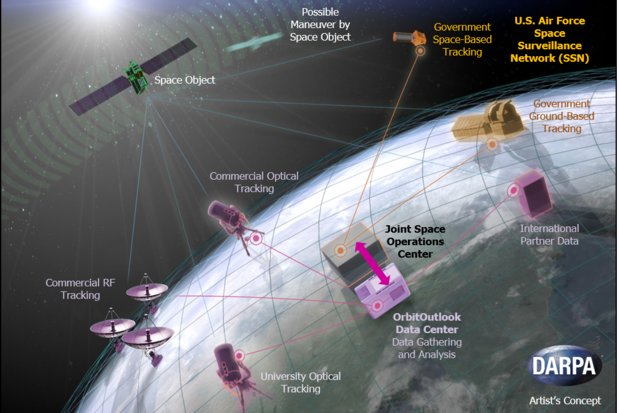 DARPA recently said that it had finished integrating seven space-watching networks that will feed tons of new Earth-orbiting junk data into what the agency calls "the largest and most diverse network of space situational awareness networks ever assembled."
DARPA's OrbitOutlook (O2) program brings seven previously separate new space sensor networks together that could ultimately feed into the United States Space Surveillance Network (SSN), a worldwide network of 29 military radar and optical telescopes operated by the Air Force as well as NASA, the FAA and other entities that could use the information.
"By including new telescopes and radar facilities based in diverse locales, and by revolutionizing how we process different data types, we anticipate vast improvements in our tracking of potentially hazardous objects and our ability to efficiently avoid collisions in space," said Lt. Col. Jeremy Raley, DARPA program manager in a statement.
"If we're successful, OrbitOutlook could revolutionize how the U.S. military and the global space-debris-monitoring community collect and use space situational awareness data, through a framework based on partnerships and fee-for-service arrangements that would enable all parties to share and purchase data from hundreds of sensors.
Not only could we double or triple the amount of useful data, but we could also generate indications and warnings in hours instead of weeks and provide orders-of-magnitude improvements in accuracy and affordability.
DARPA scientists will soon start testing scalable, automated algorithms on this integrated feed, in an effort to identify and extract relevant data that space situational awareness experts could use to make decisions in near real time, DARPA stated. The agency said it expects civil, academic and commercial groups to tie into O2 in an effort to bring more sensors online to track space debris from diverse geographic locations.
The seven networks that DARPA has developed to integrate space situational awareness data from include:
StellarView, which uses optical telescopes and passive radio frequency (RF) telescopes at six academic institutions
SpaceView, which uses privately owned optical telescope
EchoView, in which DARPA is developing the technology to leverage commercial and civil radars and passive RF telescopes
The Low Inclined LEO Object (LILO) detection effort, which is deploying a suite of optical telescopes to Ascension Island in the South Atlantic Ocean to improve detection of space objects in equatorial orbits
ExoAnalytic Solutions, a commercial network of optical and passive RF telescope
Raven, a U.S. government network of small optical telescope systems composed of inexpensive commercial off-the-shelf (COTS) components under development at the
Air Force Research Laboratory (AFRL)Rincon, a commercial network using passive RF telescopes
"More than 500,000 pieces of manmade space debris-including spent rocket stages, defunct satellites, and fragments as small as flecks of paint-currently hurtle around the Earth at roughly 17,000 miles per hour.