Data analytics: Are we there yet?
Organisational data analytics is a journey, not a destination.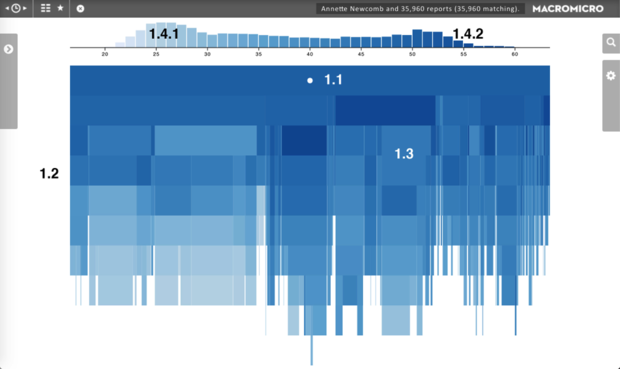 Figure 1
1.1 The organizational leader is at the top. This organization consists of 37,000 employees across 13 divisions and 17 countries.
1.2 Height reflects the number of reporting layers.
1.3 The blue color field shows age range across the organization. The lighter the blue, the younger the workforce in a particular area.
1.4 The interactive histogram shows the age distribution. This organization has a high number of 20-somethings (1.4.1), as well as a wave of near-retirements (1.4.2).
OK, we're done, right? We can all see the data and now we know what to do: train people. Well, not so fast. Being able to see this information is both the blessing and the curse of data analytics. Just because we can figure out what our data means and see what to do about it does not mean that we know what to do about it. By way of analogy, getting an IQ test might tell you something about how smart you are, or at least give you a number, but it doesn't tell you anything specific about your educational needs: even knowing that you need a more challenging curriculum is not a very precise formula. It takes expertise to turn those IQ scores into specific educational plans. Similarly, knowing that this leadership vacuum will eventually exist doesn't give us the knowledge of who to develop or how to do it. The analytic engine gives us the facts we need, the trained human brain enables us to turn those facts into useful information and purpose.
I know, this is disappointing: no actual GPS for organizational change or growth that enables us to mindlessly make each turn. Unlike the landscape, organizations are never static. Data analytics can give us the information we need to successfully navigate that ever-changing organizational landscape, but it is not a destination -- data analytics is a journey.