Dropbox enhances its productivity tools across the board
New features include document scanning and improved sharing from the desktop
Dropbox just dumped a ton of new productivity features on users of its file storage and collaboration service that are all aimed at making it easier for people to get work done within its applications.
Updates to the Dropbox app for iOS allow users to scan documents directly into the cloud storage service, and get started with creating Microsoft Office files from that app as well. The company also increased the ease and security of sharing files through Dropbox, and made it easier to preview and comment on files shared through the service.
These launches mean that Dropbox will be more valuable to people as a productivity service, and not just a folder to hold files. It's especially important as the company tries to capture the interest of business users, who have a wide variety of competing storage services they could subscribe to instead.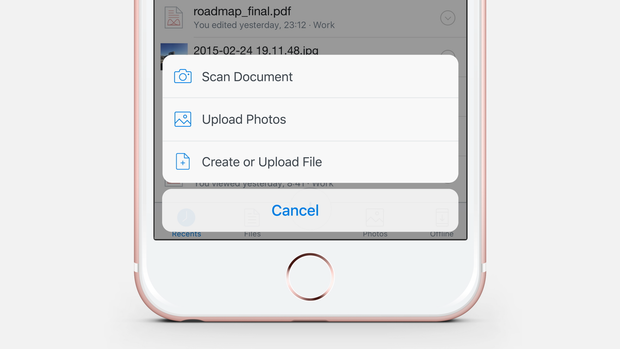 Dropbox
The Dropbox iOS app has a new menu that lets users easily add content to the cloud storage service.
Starting Wednesday, users of Dropbox's iOS app will see a big plus button that they can tap to add content to Dropbox from their phone. To help with that, Dropbox is adding support for scanning documents with the iPhone camera, and saving them as PDFs. The scanning feature lets users upload multipage documents, and gives them the ability to adjust the settings of each scan so that uploaded documents are at their most readable.
Users can also upload photos from their phone using a new photo upload workflow that will let them add individual images and also all of the pictures taken on a particular day into Dropbox. The service will use machine learning to try and recognize when documents are the subject of uploaded photos (whether through the iOS app or other means) and offer to convert and process them to scans.
Dropbox Business customers will be able to search for text inside those scanned documents, thanks to new optical character recognition functionality that the company made available for its top tier of paying customers. It builds on full-text search capabilities that Dropbox already has available for digital documents uploaded to its service.
Using the plus button, people can also start Microsoft Office documents from the Dropbox iOS app. First, users select the document type, where they want to save it, and give it a file name, all inside the Dropbox app. After that, they'll be sent out to one of Microsoft's mobile apps to edit the file they just created, with all the changes being saved back to Dropbox.
Company representatives wouldn't say when users could expect Dropbox's Android app to get the same features, but said that the company believes in making sure that its apps have feature parity across platforms.