Find missing podcast playlists, replace converted songs in playlists, and more
Sometimes the iTunes Guy gets questions where the only answer is, "sorry, you can't". This week's column covers a couple of questions with no solutions, along with some that do have answers. Learn about finding missing podcast playlists, replacing converted songs in their playlists, and more.
Alas, your best solution is to buy a cheap external CD/DVD drive--you can get one for less than $20 online. Apple's $79 USB SuperDrive also works, and it is extremely portable to boot, but it's really no better than the cheaper ones. And if you plan to rip a lot of CDs, look around for a drive that's easy to use. I have a top-loading drive, and it's easier to get discs in and out of it on my desk than with a slot-loading model.
Q: Is there any way to see which playlists a song is part of?
Yep, just Control- or right-click a song, then move your cursor down to Show in Playlist. You'll see a pop-up menu showing all the playlists the song is in. Select one of the playlists to jump to that song within it.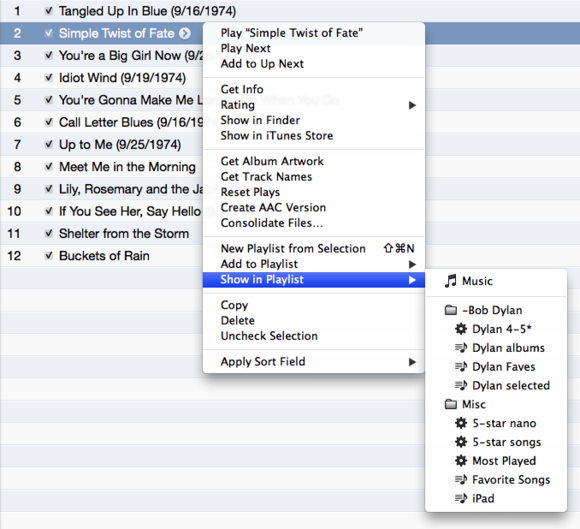 Control- or right-click a song to find which playlists it belongs to.
As you can see in the screenshot above, this also shows which smart playlists a song is in; or in other words, you can check to see if any songs meet the conditions for different smart playlists (such as my Most Played playlist) in this manner.
Q: What happened to podcast playlists on the iPad? When I first bought my iPad, my podcast playlists transferred over from iTunes. But then about the time of the iOS 6 update they disappeared. I have music playlists, but no podcast playlists.
If you have installed Apple's Podcasts app on your iPad, then the Music app will no longer show playlists that contain only podcasts, and the More section at the bottom of the app will no longer list podcasts. While the latest version of app adds playlists (known as Stations), if you want to listen to podcasts from the Music app then you can delete the Podcasts app.
Q: I uploaded/matched my iTunes library to iTunes Match. Almost all my songs appear on my iPhone 4S. However, when I connect the iPhone to my car, it only sees four artists. It does not recognize all my other music. Any suggestions?
Your car only sees the songs that are physically on your iPhone, not those tracks that are listed on the iPhone but are in the cloud. You need to download music from iTunes Match to the phone for the car to see it.