Fujitsu ScanSnap SV600: Touch-free scanner won't damage source material
It only looks like a table lamp. The Fujitsu SV600 scans material quickly and efficiently, but page curvature is a problem.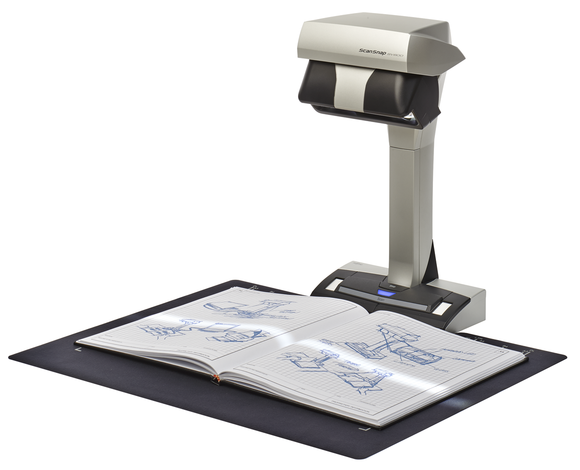 The Fujitsu ScanSnap SV600 overhead scanner is must-see technology. Priced at $800, it's too expensive for most users, but the way it scans objects placed in front of it with nothing more than a bar of light is simply cool to watch.
It scans without touching the source material, so it's extremely handy for scanning delicate documents and 3D objects as thick as 1.18 inches. Not having a platen that you can flatten documents against, however, is problematic.
If you saw an SV600 at a garage sale, your first thought would be "table lamp." Seeing it in action, however, would cause that perception to morph into "Star Trek table lamp." You'll find neither a scanner bed nor a lid, and no hulking box to hold the scanning element. It's just a base—dominated by large power, scan, and stop buttons—that stabilizes a thin tower with a swiveling scanning element at the top.
Align the object you wish to scan on the provided black background cloth, press the scan button, and then sit back and watch a bar of light travel hypnotically from back to front as it captures an image from photonic feedback. Growing up in the '60s, I fully expected technology like this to arrive 20 years ago.
A user-definable delay between your pressing the scan button and the device's starting the scanning operation gives you time to move your hand out of the way. If you're scanning a multipage document or several pages from a book or magazine, you can also configure the SV600 to initiate another scan after you turn the page.
I found the user-definable timed scan to be much more efficient, however, because the scanner's ability to recognize a page turn was accurate only about 75 percent of the time. I developed a good rhythm after setting the pause to 1 second, taking into consideration the approximately 6 seconds the device took to scan and then return to its start position. Scanning a 75-page magazine required less than 10 minutes. That's very fast, a result largely due to my not having to jockey material onto and off of a flatbed. Alas, that's not necessarily the end of the process.
Trouble with the curve
Fujitsu's engineers did a great job overcoming a couple of significant challenges when they designed the ScanSnap SV600. First, the scan head on the typical scanner remains equidistant from the object being scanned. With the ScanSnap SV600, in contrast, the distance between the two increases as the scan progresses. Second, the typical scanner doesn't have to contend with ambient light, because the source material is in such close proximity to the scan head. The ScanSnap SV600 has no mechanism to block ambient light.