Hands-on: Adobe Photoshop updates include Content-Aware Crop and Face-Aware Liquify
Creative Cloud updates give photo editors powerful new tools without disrupting familiar workflows, and the video apps and Adobe Stock are improved too.
For a long time, it was hard to beat the buzz around Adobe's Content-Aware Fill feature, a function in Photoshop CC that "sees behind" unwanted objects to automatically fill in appropriate background content. Later, Adobe expanded content-aware capabilities with additional functions like Patch and Move. On Tuesday, Content-Aware Crop joins the arsenal in Photoshop CC 15.5, part of the company's Creative Cloud 2016 update.
Other new Photoshop features in this release include Face Aware Liquify, Match Font, and a new Selection and Masking space. These join recently announced updates to Adobe's video app suite and performance improvements. These updates are available immediately to all Creative Cloud subscribers.
Why this matters: With Creative Cloud, Adobe needs to constantly add innovative features without disrupting the workflows of busy creative pros. This update adds useful but incremental changes that integrate seamlessly without adding layers of complexity.
Content-Aware Crop
Like Content-Aware Fill, Patch, and Move, Content-Aware Crop can salvage areas of a photo that would otherwise be removed when you straighten a crooked image. It requires no sleight of hand: If you can crop, you can use this feature. To crop your photo, make sure to check the Aware box at the top of the window. Photoshop then reads the contents of the image and fills in the contextual background.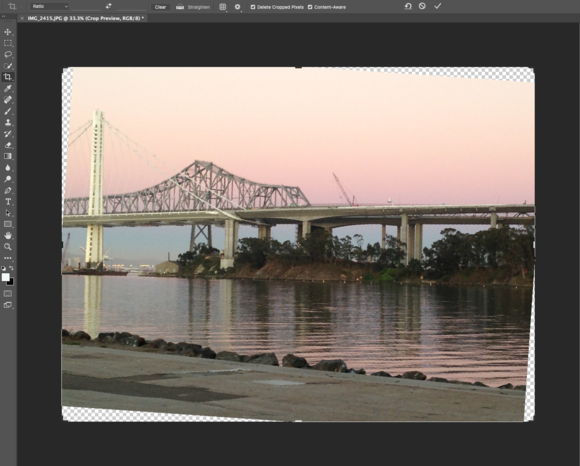 Content-Aware Crop is just as easy as cropping a photo normally. (Click to enlarge.)
This is an easy way to fix a slanted horizon without having to reduce the size of your image. Below is the completed crop with the corners automatically filled in with Content-Aware Crop.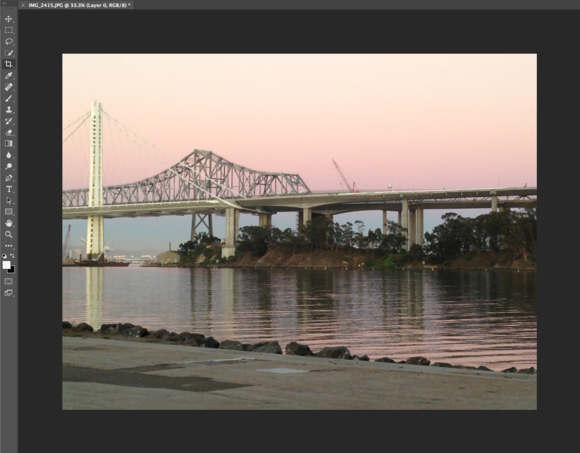 The result of Content-Aware Crop.
Face-Aware Liquify
Photoshop's Liquify filter is powerful tool that lets you push, pull, rotate, reflect, pucker, and swell the pixels of any image. It's not for every picture, of course, and despite its popularity, it was rarely used for faces. Photoshop 15.5's update of the Liquify filter now recognizes faces and lets you manipulate their eyes, nose, mouth, and face shape for a variety of effects, cosmetic corrections, and cartoony distortions.
Use the mouse or slider bars on the right side of the window to make independent and scalable adjustments to facial features.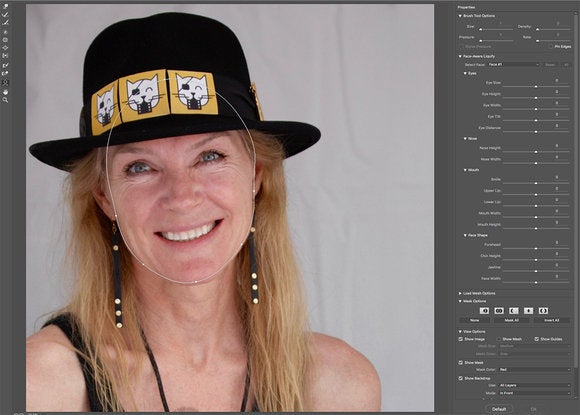 The filter automatically recognizes multiple faces in your image, but they must be fairly prominent within the composition.
Face-Aware Liquify lets you adjust face width, forehead and chin height, and jawline, to reshape your subject's head. Then you can zoom in to tweak eye size, height, width, tilt, and distance. Correcting a squint, for example, is a matter of widening the eyes, but it's worth noting that eye adjustments work on both eyes simultaneously. You can't adjust one eye on its own. Finally, you can change the face's smile, including upper and lower lips and mouth width and height.