Hands-on: Adobe Photoshop updates include Content-Aware Crop and Face-Aware Liquify
Creative Cloud updates give photo editors powerful new tools without disrupting familiar workflows, and the video apps and Adobe Stock are improved too.
Selection and Masking space
Making precise selections has been and remains one of the most tedious aspects of image editing. Over the years, Adobe has let Photoshop more easily select delicate objects like tree branches, hair, and fur. The new Selection and Masking space is a discrete place to concentrate on selections.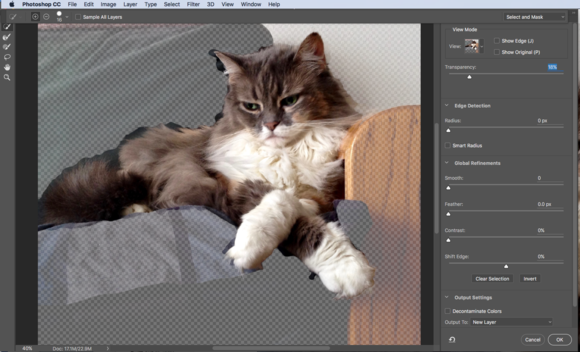 When you choose Select > Select and Mask, you'll get a new interface, with a Quick Selection tool to roughly separate the object from the background.
In the new Select and Mask interface, an adjustable Onion Skin view makes everything transparent except the object you selected. The improved Refine Edge brush tool now uses the GPU to render the results. Just brush over the edge areas. Check the Decontaminate Colors checkbox to help remove color fringing.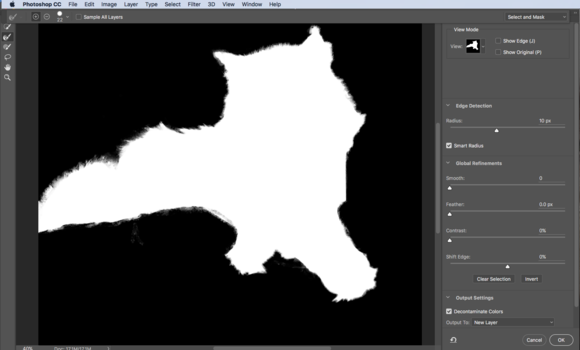 To finish the selection, just brush over the edges. This fluffy cat was selected in practically no time.
Match Font
Adobe previewed Photoshop 15.5's new Match Font feature last year at its Adobe Max creativity conference. This simple command under the Type menu can identify and analyze text within images—even in a flattened JPEG—and match it to fonts in your system or available on Adobe Typekit. If you don't have a font, you can download it directly into your document for immediate use.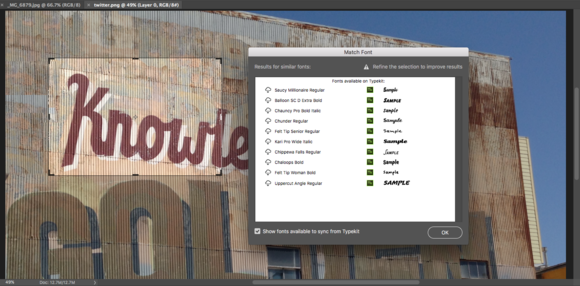 The new Match Font tool is found under the Type menu, and found several similar fonts to this vintage lettering.
I saw this funky lettering painted on to the side of a building. While I doubt it was meant to replicate any formal font, the text was stylized enough for Adobe to match it to a number of fonts that may give similar looks.
Adobe Stock
With Creative Cloud 2016 come improvements to Adobe Stock, the image service launched last year and integrated into Creative Cloud desktop apps. A new one-click workflow from your Libraries panel lets you search, preview, tweak, and license images from Adobe Stock from within Photoshop. You can then share images with team members or clients, granting different levels of viewing and editing rights.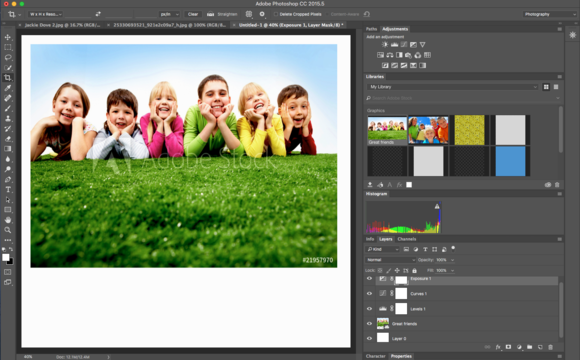 Search for and license new images from Adobe Stock from Photoshop's Libraries panel.
Accessing Adobe Stock from the web shows you all the images you have licensed and allows you to select new ones and open them directly in any Creative Cloud app. A new Premium Collection offers 100,000 curated images.
Additional updates
Creative Cloud 2016 includes a number of productivity boosts, including up to four times faster performance on Content Aware and font functions, one-click export of assets and artboards in Illustrator to multiple formats and resolutions, and availability of Adobe Portfolio for creating photo websites.