How to make Google Drive apps look and work more like Microsoft Office
Here are a few dials you can turn to get Google Docs, Sheets, and Slides to perform a little more closely to their Office counterparts.
As much as I love Google Docs, I've come to accept it's still largely a Microsoft Office world. So many businesses still run on Office, particularly with an Office 365 subscription as a popular choice for all of one's cloud storage needs.
If you're in the same boat, inhale a couple of times and take heart from knowing that you don't have to abandon the ease and save-as-you-type convenience of Google Docs, Sheets, and Slides for Microsoft's Office suite.
By changing up some of the default settings, and making other adjustments, you can get Google Docs to look and work more like Word, which will take much of the pain out of converting files to Microsoft formatting to share with others who live in and expect others to use Office. If you also set up your apps to save your work offline and make a couple of other adjustments you'll ensure that your files don't need numerous formatting or conversion tweaks when shared with Office users.
Change a few defaults
Something that will greatly improve your compatibility when exchanging files with Word, is to change the default fonts to those that match Microsoft's word processor..
It's unfortunate that this isn't the case already, but it's a rather easy fix. In Docs, you want to change the "Normal" font to Calibri, font size 11-pt. (Word uses Calibri Light, but this is the closest we can get for now). To do this, highlight text and click the Styles toggle. Click the arrow next to Normal Text and select Update 'Normal text' to match.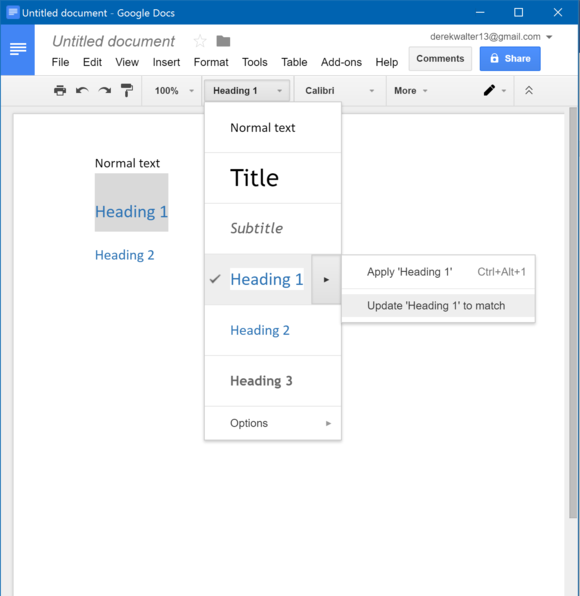 Make Google Docs look more like Microsoft Word.
I've found it's useful to do the same for Heading One and Heading Two, which are Calibri 16 and 13, respectively. If there's another font or menu style you use regularly, you can use Google Docs' ability to change the default to make that match with Word.
One other matter to keep in mind with Google Docs. When you download it to share with others, you need to use File > Convert to ensure it's fully compliant with all of Word's features. Not doing this isn't likely to cause any major issues, but it's always nice to be on the safe side.
With Slides, one good practice is to build your file in PowerPoint if you know that you're going to be sharing it with others who also use Office. That's because PowerPoint has a number of proprietary styles and themes. However, they tend to transfer over nearly the same into Slides. So do your work with PowerPoint and if you need to embed the file online or use other Slide features, the file will be consistent with Microsoft's design.