How to make Google Drive apps look and work more like Microsoft Office
Here are a few dials you can turn to get Google Docs, Sheets, and Slides to perform a little more closely to their Office counterparts.
When you import a file from PowerPoint to Google Slides, much of the formatting remains intact.
With Sheets, the main thing to keep in mind is that Excel offers many different plugins and tools for analyzing data that work differently from Google's offering. Sheets is still tops for collaborative work, but Excel still might be required for deeper data analysis.
Run Docs, Sheets, and Slides like standalone apps
One advantage to using Google Docs on Windows is the ability to make each app run in its own window, just as if it were a proper Windows app. This makes it faster to multitask and to remain focused on one application, instead of juggling one of several crowded Chrome tabs.
To do this, open the Chrome app launcher. If it's not pinned to your taskbar, the fastest way to find it is to search for it: Click the Windows button and start typing Chrome app launcher.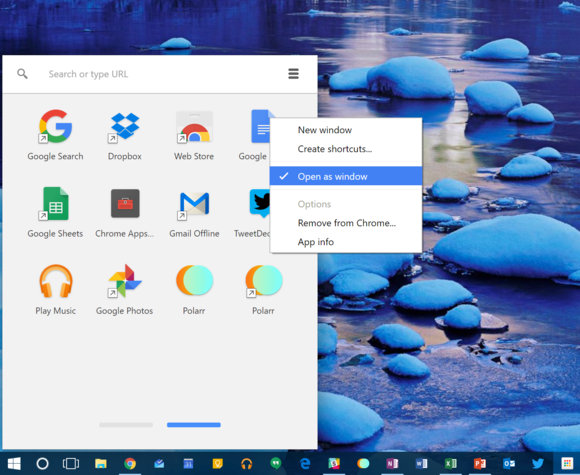 Open a Chrome app as a window so it feels more like a native Windows application.
Then, right-click on Docs, Sheets, or Slides and select Open as Window. When you open the app, you'll see that it resides inside its own Chrome window instead of being one of your million tabs.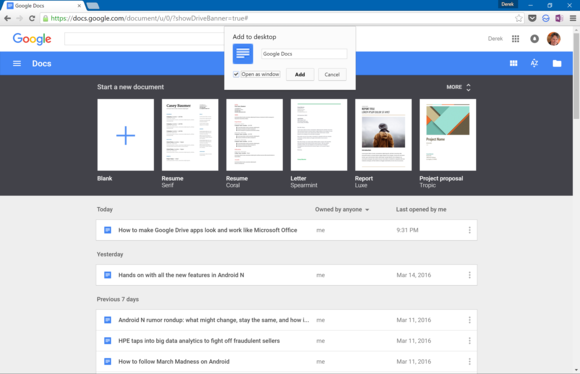 Save a Chrome app for use in a separate window.
Once you've opened it, right-click the icon on the Windows taskbar and select Pin to Taskbar. Now it's always at the ready, just one click away.
Set up working offline
Unless you live in an Internet fantasy world with ubiquitous LTE or Wi-Fi, there's bound to be some times when you don't have Internet access. There's an adage about things happening in threes, and it always seems to always occur with connectivity: The hotel network will go down while you're in a building that blocks your wireless carrier's coverage.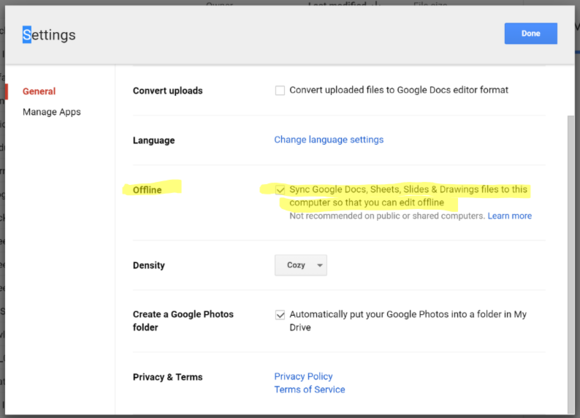 The highlighted area is what you need to pay attention to for getting your files to save offline.
So you want your Drive apps to be ready for offline work, just like Office will always be at the ready even if you're offline. To do this, in Google Drive go to Settings > Offline. This will sync your work to your PC's hard drive so that if you're without Internet access you'll be able to keep working.
Same goes if you're in a document but the connection drops. You'll see the persistent All changes saved in Drive notification change to All changes saved offline.