How to make Siri activate when you say 'Hey Siri' to your Mac with macOS Sierra
Or you can make Siri appear when you say something like, 'Chitty chitty bang bang.'
On iOS, I activate Siri by saying "Hey Siri." Vocal activation isn't available on the macOS Sierra Public Beta through the Siri system preferences, but as Jdcampbell on Reddit points out, it can be done through Sierra's Accessibility system preference.
Essentially, you use dictation to activate the keyboard shortcut for Siri. The default Siri keyboard command in the Sierra Public Beta is to hold down the Command and Space buttons. You need to change this, because the Accessibility feature doesn't have a way to hold down a keyboard combination.
Change the Siri keyboard shortcut
To change your Siri keyboard command, follow these steps.
Open the Siri system preference (Apple menu > System Preferences).
Look for Keyboard Shortcut in the main window. Click on the pop-up menu. Hold Command Space is the default that you don't want to use. Apple also offers Press Function Space as an option, but you can't use it, either. Create a custom shortcut by selecting Customize and then pressing the keys you want to use.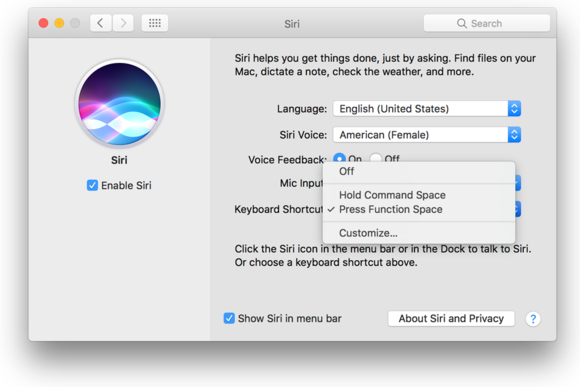 Create a Dictation Command to activate Siri
Now that you have your keyboard shortcut in place, here are the steps to perform to make "Hey Siri" work on your Mac.
In System Preferences (Apple menu > System Preferences), click on the Keyboard icon.
Click on the Dictation tab. If nothing happens, click on another tab, then click Dictation again.
Look for the setting called Dictation. Turn it on. Select Use Enhanced Dictation.
If you have multiple microphones, you can select the one you want to use by clicking the pop-up menu under the microphone icon. You can also change the language.
Now click the Show All icon at the top of the window (the one with the grid of dots) and then click on the Accessibility icon. (You can also selct View in the menu bar and select Accessibility.)
In the left column of the Accessibility system preference, scroll down until you find Dictation and select it.
Check the box for "Enable the dictation keyword phrase" and you'll see that the word Computer appears in the long box. Replace it with Hey.
Click the Dictation Commands Button.
An overlay window appears with a Selection list in the left column. Below that is a box for "Enable advanced commands." Check it.
Click the + button. This will allow you to create a custom command. Enter the following: