Inbox auto-suggests reminders from your email, syncs them with Google Keep
Google's adding its language understanding technology to another of its core services.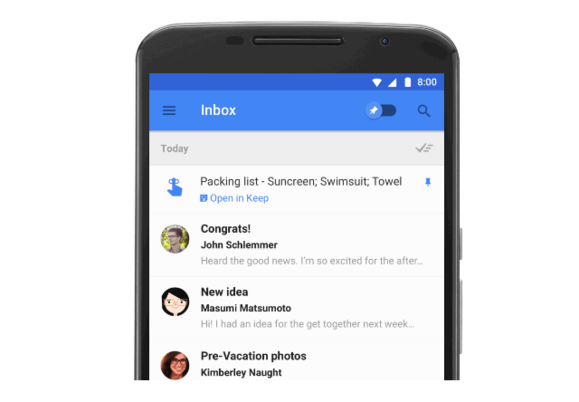 Google's Inbox has another tool to turn your messages into an easy-to-follow to do list.
Inbox now uses Google's natural language understanding capabilities to recognize when a message contains something you might need a reminder about.
When the email app sees such a message, it will prompt you to add a reminder, which will join your other Inbox messages (and of course, ping you with a notification at the appropriate time or place). If you specify a specific time for the reminder, it will hang out in the Reminders tab until then.
Reminders you create in Keep will also show up alongside your other messages in Inbox.
When I created reminders with Keep to test this feature, they also appeared in my Google Now stream. This gives Google three places to bug you about things, which hopefully means you won't forget whatever that task is.
Inbox will suggest reminders based on some of your emails.
Google is also more closely tying together Inbox with its excellent Keep app. Now any reminders that you add to Keep will also join your other stuff in Inbox. When you go to open the reminder you can view it in Inbox or touch the Open in Keep prompt, which will then take you to the Keep app.
If you're cross-platform your reminders will also show up with Inbox on the web or in iOS. The Keep feature even works on iOS, taking you to Keep's web app.
The impact on you: This is another case where Google is tying its services more closely together. The feature doesn't require any type of app update-just fire up the Inbox app (the beta is open to everyone) and try it out for yourself. And look for Google to keep adding in neat tools like this, as Inbox is clearly the future of Gmail.
Source: PCWorld