Intel's new mobile lineup: Desktop performance in portable packaging
Intel unleashed its fourth-generation Core processors today, and the focus is overwhelmingly on mobile chips.
Intel unleashed its fourth-generation Core processors today, and the focus is overwhelmingly on mobile chips. The chip giant revealed information on ten new mobile processors, and the lineup (code-named Haswell) emphasizes processing performance, power-efficiency and integrated graphics--precisely because the traditional desktop PC is dying, and Intel's future is tied to mobility.
Think about it: Hard-core gamers and content-creation enthusiasts are pretty much the only consumers buying PCs that come in tower form factors these days. Even all-in-one computers are built using mostly mobile parts. And companies like Alienware, Origin, and CyberPower have built thriving businesses manufacturing mobile gaming PCs. So Intel is now focusing most of its efforts on building mobile CPUs--fast processors that run cool so they don't require a lot of power-sucking cooling fans.
Curiously, Intel has boasted how wonderful its new Iris Pro integrated graphics are, but the company didn't provide us with an Iris Pro system that we could benchmark. What's more, Iris Pro doesn't appear in all of Intel's fourth-generation mobile Core processors.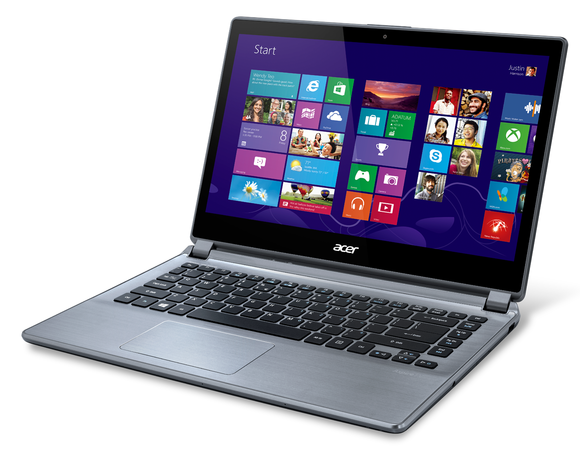 We've learned that Acer's as-yet-unannounced V7-482PG-9884-U will be one of the many Haswell Ultrabooks that will reach the market this year.
Intel's H- and M-series CPUs are the most powerful mobile chips in the Haswell family. They will also be the most power hungry, and will rely on a southbridge chipset residing on a separate chip.
The 2.4GHz Core i7-4950HQ and the 2.3GHz Core i7-4850HQ are quad-core processors with hyperthreading support. (Hyperthreading is an Intel technology that allows the PC's operating system to address one virtual core for each one of the CPU's physical cores.) These chips also feature Intel's new Iris Pro integrated graphics. Both of these parts have TDPs of 47 watts. (TDP stands for thermal design power, and specifies how much electrical power a computer must be able to dissipate in a worst-case scenario: when the CPU is operating at its maximum speed for a sustained period.)
The 3.0GHz Core i7-4930MX has a 57-watt TDP, while the 2.8GHz Core i7-4900MQ and 2.7GHz Core-i7-4800MQ will have TDPs of 47 watts each. All three of the M-series parts are quad-core CPUs with hyperthreading support.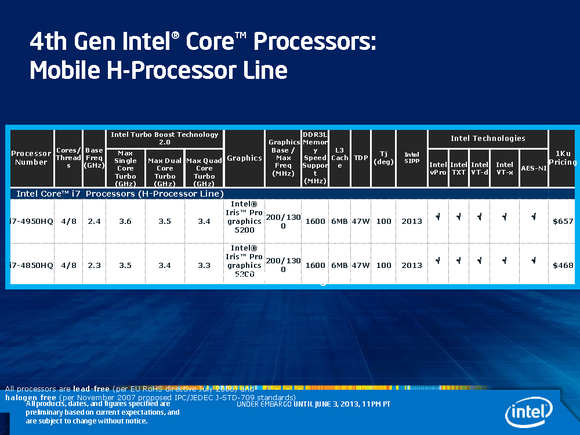 As I was finishing this story, Intel provided me with details of eight additional processors in the M line (Intel tells us there will be a total of 13 M-series SKUs in 2013) and three additional parts in the H line (H-series SKUs will be released this year, according to Intel). So that leaves just one H processor to be revealed. And because the H processor line is where Intel's best integrated graphics processor resides, we'll go out on a limb and speculate that the company is holding a mobile Extreme Edition mobile CPU up its sleeve.