Mac Gems: Mailplane 3 melds Gmail and your Mac
Four years ago, we reviewed Mailplane 2, the first dedicated Gmail client that avoided traditional IMAP and POP approaches to Gmail, opting instead for standard browser technology under the hood. The result was an app that gave you the benefits of "real" Gmail with the advantages of a native Mac app.
When I saw that Mailplane supported five of the most popular Gmail plugins, including Boomerang for email reminders and Taskforce to convert emails into to-do tasks, I rolled my eyes, fearing that testing them would require individual downloads and setups for each service. But that's not the case--you enable each of them by clicking a box in Mailplane's neatly organized preferences window. After that wonderfully easy step, the plugins I'd enabled worked without a hitch.
Mailplane offers an excellent systemwide menu for notifications of new messages, complete with a Do Not Disturb feature to let you work uninterrupted. The app also integrates with OS X's Notification Center, but that feature alerts you only to brand-new messages as they arrived, not to new messages waiting in your inbox when you first open the app.
Mailplane 3 crashed once during my testing, shortly after I started using it, but I couldn't repeat that error. In general, the app seemed to load pages more slowly than they appeared in Safari, even after I'd turned off, in Mailplane's preferences, the supposedly performance-sapping Google Chat and Google Plus. Also, even when you switch off Chat, an error message still appears on your Gmail screen. You're better off deactivating Chat from Gmail's own settings.
I found Mailplane's online Help FAQ to be well written and friendly in tone. The developer also maintains a robust Google Group for users to post other help queries, with prompt responses from a cheerful and well-informed Mailplane "customer support ninja."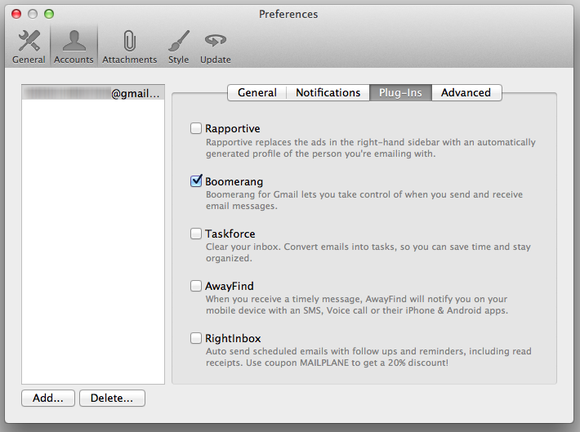 I liked working with Mailplane 3, and I admire the hard work its creators put into the new version--it's definitely the most polished and useful Gmail client I've yet tested. If you choose to drop $25 on it, you'll get a very good program. But if you don't place a lot of value on the features a native OS X app can provide, you may be just as happy sticking with Gmail in the browser.