Meet Swift Playgrounds, the learn-to-code iPad app that feels like a puzzle game
Apple's first foray into teaching kids how to code is a triumph.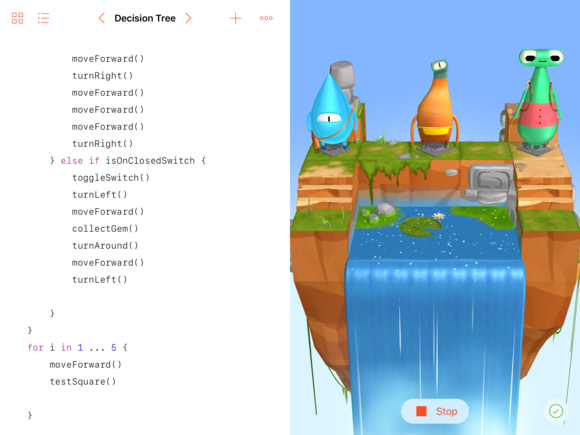 The preview pane is interactive: you can zoom around to get a look at things, and tap on Byte to change the character.
Apple developed the curriculum for Swift Playgrounds itself, based on what its own software engineers think is the best way to learn software engineering. This isn't a purely academic exercise: Swift Playgrounds is designed to get you thinking like a coder, decomposing problems and applying logic. "It's made by Apple, by the people who write the real software," said Tim Triemstra, who handles product marketing for Apple's developer tools, "so we're teaching programming how it's actually done."
But Apple also brought in professional educators, and of course kid testers, to tweak things like the leveling and the motivating language. "We worked with educators to hit the important notes of how to teach computer science," explained Cheryl Thomas, Apple's vice president of software engineering operations. "We wanted to be egalitarian, with a wide appeal to both boys and girls," she said.
All the lessons are available right away, so you don't have to unlock them one by one or play them in a certain order. The goal was to create excitement, so a lot of thinking went into how to keep users engaged—and it really shows. Swift Playgrounds feels more like a game than an academic exercise, with a "just one more lesson" addictiveness that made me want to keep building on the skills I'd just learned.
Swift Playgrounds is available with the iOS 10 public beta, including Learn to Code 1 and two Challenges. More lessons will come later with the final shipping version of the app, launching with iOS 10 this fall. For more on Swift Playgrounds, take a listen to Macworld Podcast episode 514, with special guest Fraser Speirs.
Previous Page 1 2 3 4