Noiseless and Noiseless Pro review: Clean up your photos shot in low-light conditions
Here's something I do more often than I'd like to admit, and I'll bet plenty of other photographers do it, too.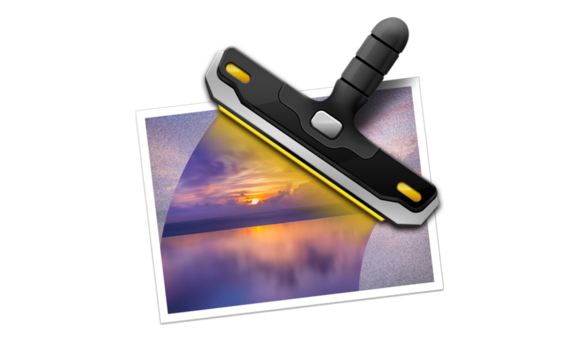 Here's something I do more often than I'd like to admit, and I'll bet plenty of other photographers do it, too.
When shooting in a low-light environment, increasing the camera's ISO (light sensitivity) setting allows you to capture brighter exposures without using a flash. Doing so introduces digital noise into the image, but often the tradeoff is worth it to get the shot. (Digital noise also occurs in low-light photos captured by smartphones, which offer you no control over the ISO.)
The problem comes the next day when I forget to change the ISO back to a low value. I photograph something in the daylight, and end up with images that have plenty of exposure—plus a solid dusting of digital snow.
Reducing that noise using software later isn't as easy as applying a filter, but the Noiseless and Noiseless Pro applications for OS X from MacPhun come pretty close.
Less noise equals different noise
Although eliminating noise seems to be the goal, we actually need to replace the existing artifacts with areas of pixels that aren't as noisy. For smooth surfaces, that means melding the noisy pixels into a uniform color. But photos aren't often comprised solely of smooth surfaces. When you simplify complicated areas using the same approach, you lose detail and end up with an image that looks more like an Impressionist painting.
Noiseless (and other tools, such as those built in to image editing applications) uses algorithms to adjust the appearance of the pixels in a way that minimizes the original noise and retains detail.
When you open a photo in Noiseless, the app applies a preset based on information it finds in the image's EXIF data. (If a file contains no EXIF data, no preset is chosen, which at first made me think the automatic feature wasn't working.) The presets are about as friendly as you can get, starting with Lightest and incrementing to Extreme, and tackle both luminance noise (the strength of light) and color noise. Clicking one applies the effect in a before-and-after preview that's zoomed-in so you can view the details.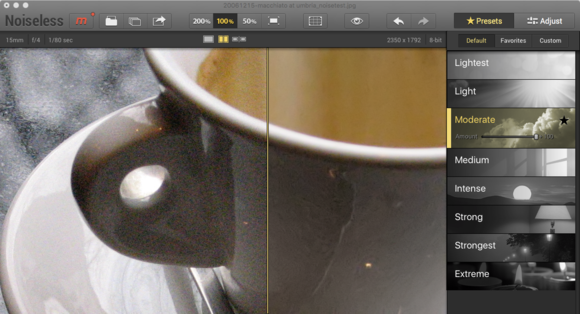 A Noiseless preset fixes an old photo that contains a lot of luminance and color noise. Credit: Jeff Carlson
Drag the divider to reveal more or less of the corrected After version. If you drag the image to view another area of it, the app needs to re-render the preview, but since Noiseless is calculating just the visible area, the previews are speedy enough. You can also work with just the preview, or the original and preview side-by-side.