Nvidia's faster, better GeForce Experience 3.0 launches with mandatory registration
But you can still download Game Ready drivers directly from Nvidia's website without registering.
Now for the somewhat troublesome news.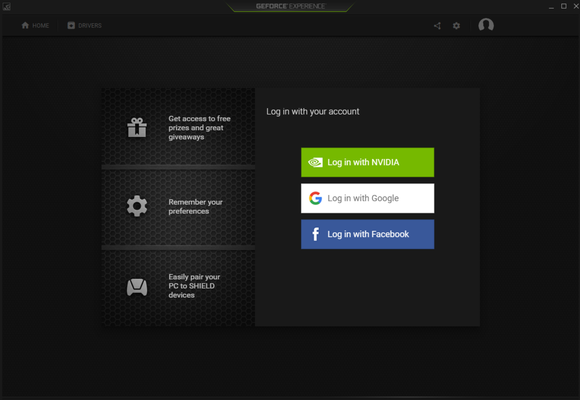 The story behind the story: As promised since last October, Nvidia's now forcing you to log in to use GeForce Experience, via Facebook, Google, or an Nvidia account tied to your email address. That burns—especially after you've already forked over hundreds of dollars for a GeForce graphics card—but fortunately, the company isn't locking its vaunted Game Ready drivers behind GFE registration as previously threatened. When asked if there are plans to do so in the future, an Nvidia spokesperson said, "You can still get the drivers outside of GFE."
Hostage situation averted.
It's not all bad, though. Nvidia's also taking advantage of registration to integrate giveaways directly through GFE, starting with VR-ready MSI gaming laptops and the HTC Vive VR headset. One day, the free games that Nvidia sometimes bundles with its cards could even conceivably be delivered via GFE, similar to how Nvidia offered free Witcher 3 copies to Titan X owners last year, along with access to hot gaming beta tests. Game-based goodies like that would require you to log in to register, anyway—as they always have in the past.