OpenStack by the numbers: Who's using open source clouds and for what?
IT vendors and telecos are the heaviest users of the open source cloud software, bi-annual survey data shows
OpenStack clouds are not yet mega-scale. Almost half are fewer than 100 nodes and close to one in five are fewer than 10 nodes.
In what stage of deployment are OpenStack clouds?
The project is maturing. In April 2015, about half of OpenStack clouds were in production. This year, 65 percent of respondents say their OpenStack clouds are in full production use. Only 21 percent are in development and testing while 14 percent are in a proof of concept phase.
What types of clouds use OpenStack?
Is OpenStack a public or private cloud platform? Backers of the project say it can be either, but the majority of users (65 percent) use it to build private clouds. Only 16 percent use it to build public clouds. One emerging use case is a hosted private cloud: 12 percent of respondents contract a service provider to host a dedicated OpenStack deployment, freeing customers from having to manage the complexity.
Why use OpenStack?
Perhaps unsurprisingly, the fact that OpenStack is open source is a key driver for its use. But interestingly, 66 percent of respondents said the primary reason they chose to use OpenStack was to save money over alternative infrastructure costs. Ninety-seven percent said standardizing on open APIs was at least one of the their top five reasons.
Likes/Dislikes
The Foundation asked its members what they most like and dislike about using OpenStack. Aspects related to the project being open source are key benefits for users, but increasing its ease of use and management is a top priority.
Like:
Community
Flexibility
Innovation
Lack of vendor lock in
Ecosystem
Evolution
API driven infrastructure
Don't like:
Lack of comprehensive documentation
Poor consistency across components
Cumbersome deployment automation
Maturity of specific projects and clarity on which projects are most mature
Focus on core projects, not side projects
Which other clouds does OpenStack connect to?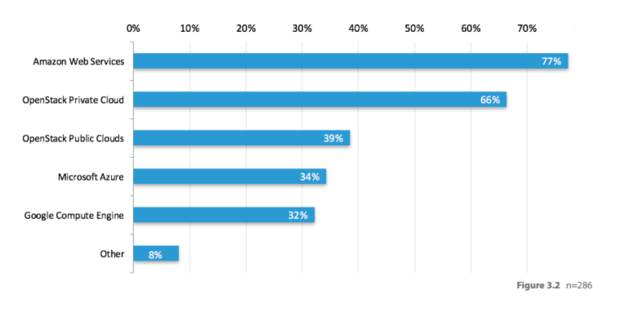 The latest bi-annual survey data of OpenStack users shows a continuing march of the open source cloud software into mainstream of enterprises, but also the project's continued challenges related to ease of deployment and management.
One thing that's clear is that interest in OpenStack continues to grow rapidly. The project is made up of 20 million lines of code; more than 585 companies have supported OpenStack in some way, and the OpenStack Foundation counts almost 40,000 people actively engaged in the community.
The April 2016 version of the OpenStack Foundation's survey (read the full report here) queried 1,603 members from 1,111 organizations who oversee 405 OpenStack clouds.
Size of organization using OpenStack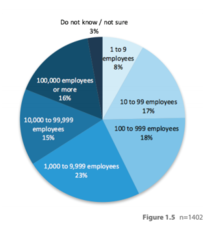 OpenStack has a healthy distribution of both large and small organizations. Twenty-three percent of respondents work for a company with between 1,000 and 9,999 employees, while 18 percent work at a business with fewer than 1,000.