OpenStack by the numbers: Who's using open source clouds and for what?
IT vendors and telecos are the heaviest users of the open source cloud software, bi-annual survey data shows
Which industries use OpenStack?
Businesses in many sectors use OpenStack but it's clear that a couple of core industries stand out. Sixty-eight percent of respondents work for Information Technology companies; 14 percent for telecommunications providers and 9 percent for academic institutions.
Size of OpenStack clouds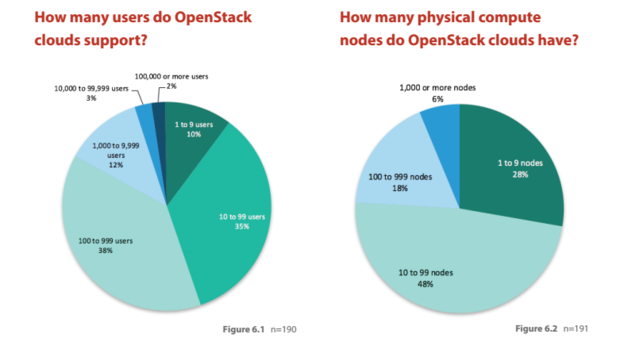 The relationship between OpenStack and Amazon Web Services has been somewhat tenuous. But the survey shows that OpenStack users commonly integrate AWS and OpenStack.
KVM rules OpenStack
OpenStack users prefer to use open source components throughout their environments. While this may not be a surprise, it is striking how prevalent open source components are in OpenStack deployments.
For example a whopping 93 percent of OpenStack clouds run the Kernel Virtual Machine hypervisor. The next most popular hypervisor is QEMU with 16 percent use. Despite VMware's efforts to assimilate its tools into the OpenStack ecosystem, only 8 percent of users reported ESX as their hypervisor.
Open source networking, storage and databases dominate
On the networking front, the most popular network driver is Open vSwitch, while for storage Ceph is the dominant platform. MySQL is the top database, followed closely by MariaDB and MongoDB - all of which are open source.
Again in the operating system open source dominates the majority (74 percent) of OpenStack clouds. What may be surprising here is Ubuntu's commanding lead over Red Hat, SUSE and CentOS.
While it's unsurprising that users of an open source cloud infrastructure would also use open source components elsewhere in the stack, it highlights the challenges traditional vendors have in monetizing support of OpenStack clouds.
What's next for OpenStack?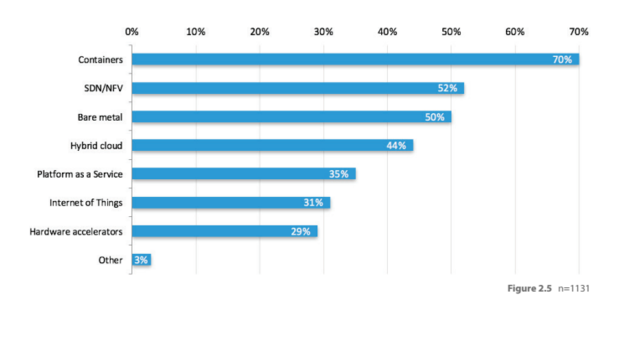 Many OpenStack users are exploring emerging technologies in their OpenStack clouds. Application containers, software defined networking and network function virtualization, along with bare metal clouds are among the most interesting emerging technologies used in OpenStack environments.
At the Austin Summit one of the key themes is expected to be the integration of OpenStack with higher-level orchestration and platform as a service (PaaS) tools. This is important because while OpenStack IaaS provides capabilities for automation of infrastructure, higher level services give developers the tools they need to write, manage and deploy code on that infrastructure quickly.
OpenStack users seem willing to embrace these new technologies: 42 percent say they're either using or experimenting with Kubernetes, Google's open source container management service. Cloud Foundry (used by 24 percent), OpenShift (from Red Hat) and Mesos are other popular platforms being explored.
What job titles are managing OpenStack clouds?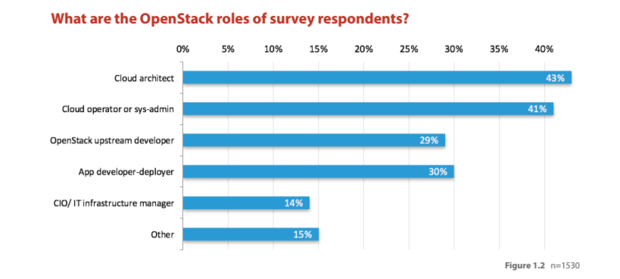 Finally, the Foundation attempted to pin down who within an organization is managing OpenStack clouds and the answer shows how cloud computing is ushering in a new wave of jobs. The most popular job title of a respondent to the OpenStack survey was a "cloud architect," a title did not exist 10 years ago.
Source: Infoworld