SAP's bold new goal: making precision medicine a reality
It just rolled out a brand-new platform tailored for healthcare.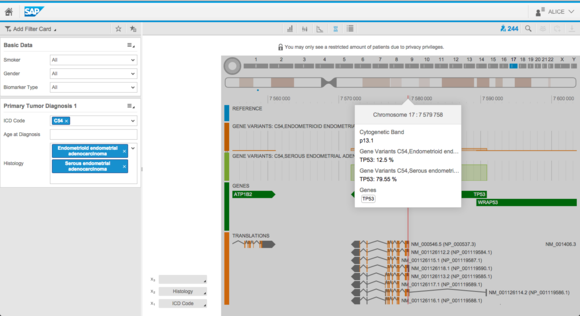 SAP's Medical Research Insights application. Credit: SAP
After more than 40 years of focusing primarily on software for large businesses, SAP is taking a bold step in a new direction: precision medicine.
Targeting healthcare organizations, life sciences companies and research institutions, the German software giant on Tuesday rolled out SAP Foundation for Health, a brand-new platform based on its Hana in-memory engine that's aimed at helping such organizations uncover insights from patient data in real time.
"Our strategy is very simple but very ambitious," said Dinesh Vandayar, vice president of personalized medicine for SAP. "Our vision is to create a health network enabling personalized medicine."
SAP also unveiled SAP Medical Research Insights, the first accompanying application, with a focus on clinical researchers and life sciences companies.
SAP isn't the first enterprise software company to dip its toes into the healthcare waters recently: Just a few months ago, Salesforce also made a foray into the market.
But SAP has a particularly personal motivation: company CEO Bill McDermott lost an eye this summer in a freak accident. Though work on the new initiative had begun long beforehand, it gained new prominence among SAP's priorities following that event, Vandayar said.
"Since the accident, his renewed focus on this is at another level," he explained. "It's really driven us to focus more on this area. He absolutely believes SAP can play a bigger role in improving patient outcomes."
SAP is also not entirely new to the healthcare world, noted Greg McStravick,
"SAP grew up automating core business processes, but we are not neophytes in healthcare," McStravick told an audience Tuesday at an SAP Spotlight event in New York introducing the new initiative.
More than seven thousand healthcare providers in 88 countries already use SAP's existing applications to automate their business processes, he added.
Still, there's clearly an unmet need for tailored technology.
"If you look at the market today and the entities that support medicine, there is really very limited exchange of data," Vandayar said.
That lack of sharing can have a direct effect on patient outcomes, he added, citing an example in which a successful drug for leukemia was later found to cause major heart problems in the children who took it.
"Today there is virtually no exchange of information even within a single entity let alone across them," he said. "Our vision is to provide a common platform and data model so that this exchange of information happens more easily."
The new SAP Foundation for Health platform is designed to offer a flexible and extensible clinical data warehouse model along with industry-focused data integration management and real-time analytics capable of handling both structured and unstructured data.