StoAmigo Tack App review: Cloud convenience and remote access to Mac files, but software is unintuitive
Tack App by StoAmigo takes a slightly different approach to the cloud.
"The cloud" has become an overused buzzword, but it's hard to deny the impact services like Dropbox, Google Drive, and iCloud Drive have had on us. Upload files once, and they remain available from each and every device, ready to share with others from anywhere there's an Internet connection.
As convenient and ubiquitous as cloud services may be, many users are rightfully apprehensive about putting sensitive documents—not to mention music files, photos, videos, and more—where they could potentially be accessed by prying eyes.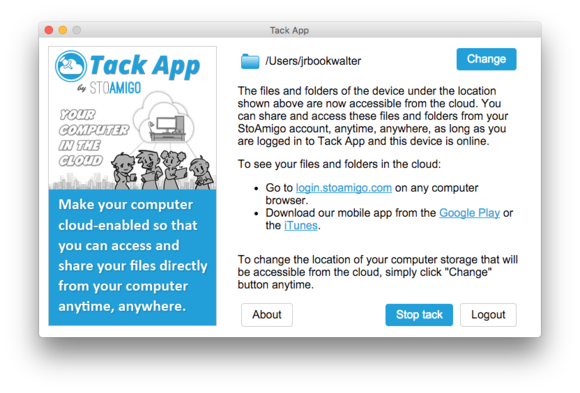 On the Mac, Tack App is the model of simplicity: Select a folder, and it becomes available through the cloud.
Your own cloud
Tack App by StoAmigo takes a slightly different approach to the cloud. After installing the app on your Mac and PC, files and folders stored there can be accessed remotely from any web browser or the StoAmigo mobile app for iOS or Android. As the company's marketing explains, it's essentially "your computer in the cloud," but without the need to upload everything.
There are potential downsides. The computer(s) in question must be running and online in order to be remotely accessed. If you frequently travel or leave your desktop turned off, this won't be an ideal solution. And although files don't actually reside on StoAmigo servers, access is still controlled through a cloud-based account.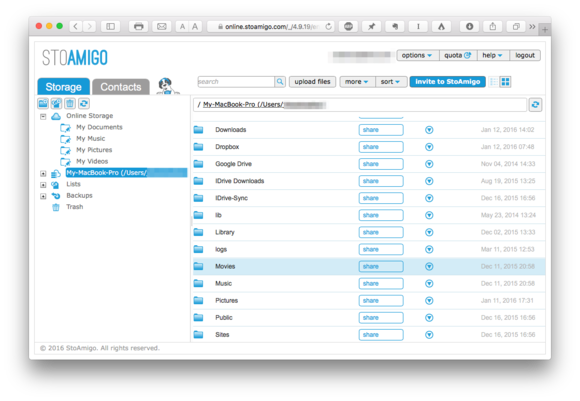 In addition to iOS and Android apps, "tacked" content is also available from any web browser.
Setup is simple, requiring little more than signing up for a free StoAmigo account and pointing the software in the direction of the parent folder you wish to access; this can be an entire user folder or only one specific location. In addition to whatever space is available on the "tacked" systems, StoAmigo includes 2GB of free online storage, with the option to purchase up to 80GB more (for a whopping $100 per year, no thanks).
Users can change which folder is accessible on the fly, which takes effect immediately. The only other options are the ability to log in and out or start and stop the service, which means the Tack App appears in both the menu bar and dock at all times, with no way to hide one or the other.
Going mobile

StoAmigo for iOS allows users to access or share "tacked" files and folders, but it's not quite as intuitive as it should be.
With Tack App running on your computer, logging into the same account from the companion StoAmigo app for iOS provides access to everything within the folder you've selected—and I do mean everything, including a whole mess of invisible files you normally don't see on OS X. Sadly, there's no option to filter these items, although content can be displayed in either thumbnail or detail views.