Tesla needs to rethink its Autopilot technology
Ultimately, vehicle-to-vehicle communications is necessary for safe autonomous cars
In light of several accidents that have involved its assisted driving technology, Tesla should rethink just how much automation it provides to drivers, automotive experts said today.
While Tesla's Autopilot advanced driver assistance system (ADAS) uses cameras and radar, the carmaker should consider adding LiDAR (Light Detection and Ranging) technology, which uses lasers to create 3D scans of objects around a vehicle.
Currently, Tesla's radar only ranges the distance to objects, but it cannot necessarily determine that those objects are.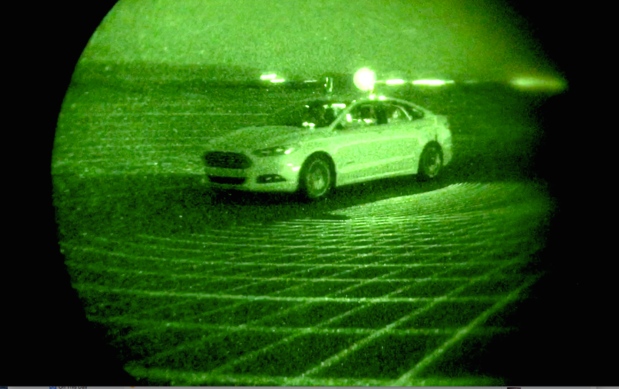 Ford
Ford is testing currently testling LiDAR on its vehicles.
Tesla CEO Elon Musk has said he doesn't think his all-electric vehicles need LiDAR, and argues that passive forward-looking radar can accomplish ADAS functions.
"I think that completely solves it without the use of LIDAR. I'm not a big fan of LIDAR, I don't think it makes sense in this context," Musk said last year.
More recently, there has been speculation that Tesla is at least considering adding LiDAR at some point.
But, more may be needed.
Richard Wallace, the director of the Transportation Systems Analysis group at the Center for Automotive Research, said if Tesla vehicles were equipped with vehicle-to-vehicle (V2V) and vehicle-to-infrastructure (V2I) communications technology, the recent spat of accidents would likely have been avoided.
Wallace believes that autonomous vehicles won't be entirely safe until they can communicate with other vehicles on the roads as well as the infrastructure around them.
"People argue...'I developed a fully self-driving vehicle based purely on sensors and artificial intelligence and I don't need V2V and V2I technology,' " Wallace said. "V2V would have stopped this...fatal crash."

Nissan
Nissan has unveiled a self-driving concept car based on the all-electric Leaf that can drive and park itself.
For the past two weeks, Tesla has been at the heart of a media feeding frenzy since it revealed that an owner of one of its Model S sedans was killed back in May while the Autopilot feature was engaged. That accident was followed by two others allegedly involving Autopilot.
The National Highway Traffic Safety Administration (NHTSA) and the Securities and Exchange Commission are investigating Tesla over the incidents.
Last week, the NHTSA requested additional data from Tesla regarding Autopilot, including any design changes and updates to the system, as well as detailed logs of when the system has prompted drivers to take over steering.
Today, Consumer Reports, whose past reviews showered Tesla's all-electric vehicles with praise, called on the all-electric carmaker to disable its semi-autonomous driving system in light of the accidents.