The best calendar apps for iPhone and iPad
With Sunrise scheduled to shut down soon, what calendar app should you get to replace it? Our list can help.
Fantastical's main screen has a definite Sunrise-style feel, with a chronological list of appointments displayed below a full or partial calendar month. Instead of a choose-your-own-account method, Fantastical piggybacks on Calendar, displaying only the accounts you've subscribed to in Settings. Serious Eventbrite and Facebook users won't miss the in-app integration, however, as they likely have those events already plugged into their Google or iCloud calendars.
Its interface is simple enough to grasp in seconds, but that's not to imply that Fantastical is merely a basic calendar. There are three views to choose from: The patented DayTicker, which boils your calendar down to only days that have events, a full dot-style monthly calendar, and a week view that offers an hourly overview of your upcoming schedule.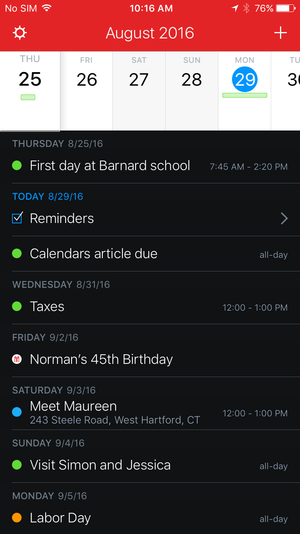 The DayTicker puts your events on full display, so you can check in and quickly get on with your day.
But while Fantastical can certainly function as a regular calendar, it's not as much about days as it is about events. Where other calendars will show blank slots between appointments, Fantastical's event list focuses solely on what you need to do. In fact, the only place you'll see free time is in the weekly view, and that's mainly for fixing scheduling snafus. It's not unlike a to-do app in that regard, and it's one of the many subtle ways that Fantastical sets itself apart from its competitors.
Event creation is an overlooked aspect of many calendar apps, but Flexibits spent considerable time on it. Foremost is its natural language engine. It might not be as novel as it once was (especially since more than a few of its peers have adopted the concept on their own way), but it's still delightful to watch it parse a jumbled string of words into a sensible event.
Fantastical requires separate purchases for the iPhone and iPad, but the money is well spent. Whether you have a mini or a Pro, Fantastical makes the most of the extra pixels, adding support for Split View and Slide Over, as well as an expanded design that puts a greater emphasis on the calendar. And if you own an Apple Watch, you can get reminders and add events right from your wrist. But the iPhone app is the star here, offering excellent on-the-spot event creation and at-a-glance scheduling all in one of the most beautiful interfaces you're likely to find. And if that's not fantastic, I don't know what is.
Runner-Up: Calendars 5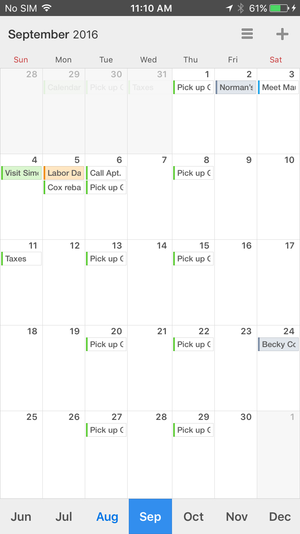 No matter which view you choose, Calendars 5 will give you complete control over your events.
Previous Page 1 2 3 4 5 6 Next Page