The hidden editing power of Photos for OS X
Photos for OS X is designed to appeal to a broad audience, with simple editing tools that let anyone improve their photographs. But is that it? Even though it's a 1.0 product (replacing iPhoto and Aperture), a lot of editing power is actually hidden beneath that user-friendly surface.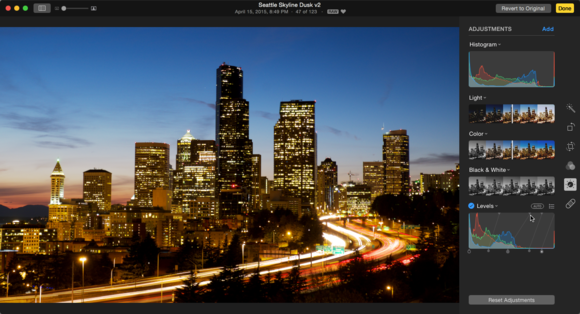 Use the top controls for fine-tuning.
Copy and paste adjustments
After you've edited a photo to your liking, you probably have similar shots taken at the same time that would benefit from those adjustments. Rather than try to replicate everything by hand, it's much easier to copy the work you did on the first one and paste it onto another.
While you're still in the editing view, choose Image > Copy Adjustments (or press Command-Shift-C). Next, switch to the unedited photo and choose Image > Paste Adjustments (or press Command-Shift-V). All the changes you made to the first apply to the second.
Looking ahead
These advanced or hidden editing features exist in the current 1.0.1 version of Photos for OS X, and there's more to come. An update arriving with the upcoming OS X El Capitan will support editing extensions: third-party developers can create modules that will enable you to edit your images within Photos for OS X using the developer's tools. This capability already exists on iOS--you can use the editing tools of Pixelmator or Camera Plus, to name just two examples, without leaving the Photos app on your iPhone or iPad.
For now, though, Photos for OS X turns out to be a much more capable photo editor than it first appears, which is a good place to start moving forward.
Previous Page 1 2 3