Watch Dogs 2 hands-on: All I want to do is drive around and admire digital San Francisco
It's San Francisco, but without the crippling rent issues or the traffic
I'm still in awe of it though, and it made an uninspired demo more interesting. My hands-on was standard Watch Dogs stuff—break into a building because some guy with a voice modulator said so, then hack a computer. Then there was a shootout in Oakland. The most I can muster for that side of the game at the moment is a "We'll see." I'm encouraged by the goofy tone of the trailer, hoping that maybe this won't be as self-serious white-bread as the original Watch Dogs. But again: I have no inherent faith in the series. What I played wasn't so radically different as to get me frothing for more.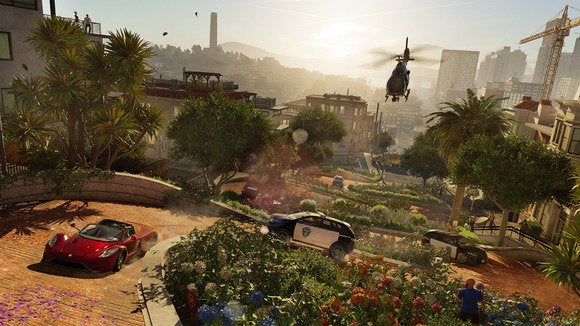 Yeah, I'll take more of that world, though. I just want to drive down a curiously traffic-free Embarcadero, or take walks through the Presidio. Why? I don't know. I honestly can't fathom why digital tourism fascinates me so much, especially when it's of cities I've already visited—let alone currently live in.
My only guess is it scratches some techno-lust about video games. It's a concrete point of comparison. Sure, we all know games are getting prettier, they're getting bigger, they're getting more complex. But I'll never visit Cyrodiil, or French Revolution-era Paris, or Velen/Novigrad/Skellige, or Azeroth. Neither will you. There's no way of knowing how faithful a recreation those digital worlds are.
I know San Francisco, though. I can walk outside and look at it, then boot up Watch Dogs 2 and see how well it translates. It's something I can latch onto and say "Damn, video games really are amazing these days—at least on a technological level."
Digital tourism's absolutely not enough to make up for a mediocre story or tedious mechanics, however, and Watch Dogs 2 will need to do quite a bit to convince me it's not just More Watch Dogs a.k.a. Assassin's Creed. But I'm looking forward to taking a walk through my neighborhood just the same.
IDG Insider