Wish lists, upcoming-track alerts, adding comments to multiple tracks, and more
This week I answer a couple of questions about the iTunes Store, explain how to add comments to multiple tracks at once, and discuss the useful Skip when Shuffling tag. I also reveal a way to have iTunes announce what track is about to be played.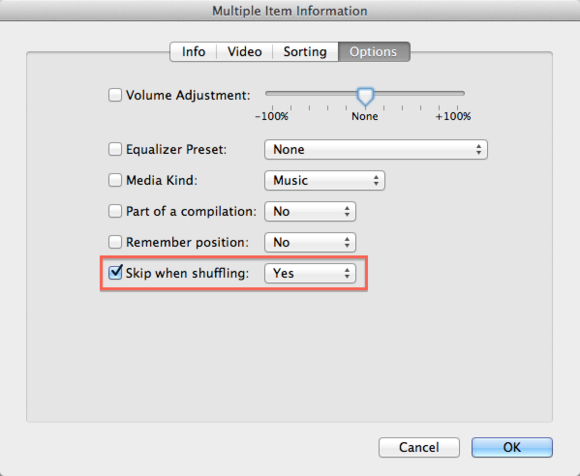 Choosing 'Skip when shuffling' tells iTunes and iOS devices not to play these tracks in shuffle mode.
If the only reason you unchecked the tracks is so they don't play in shuffle mode, there's another way to do this. Select the tracks in question, press Command-I, then click the Options tab. For the Skip when shuffling setting, choose Yes. These tracks won't play in shuffle mode, either in iTunes or on an iOS device.
Q: Thanks to your column, I now have smart playlists set up based on track comments. Is there any way to add a comment to multiple tracks (or an entire playlist) at once?
Sure. Select all the tracks--such as all the tracks in a playlist--then press Command-I, and click the Info tab if it isn't already displayed. Type your comment in the Comments field, then click OK. The comment will be added to all the tracks you selected. Note that this will replace any existing comments in the selected tracks.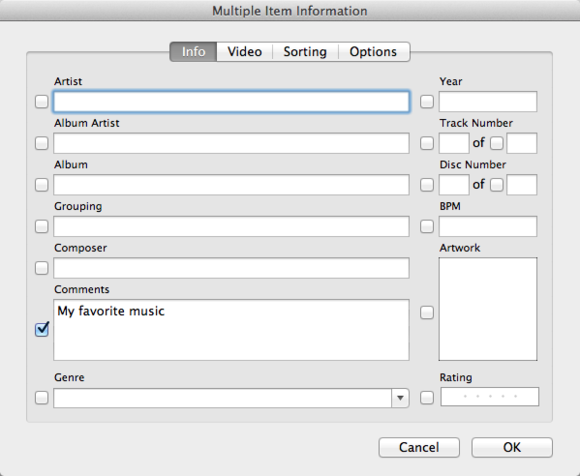 You can easily add the same comments to a group of tracks by selecting them all and using the Info window.
Q: In the iTunes Store, why are tracks longer than ten minutes not available for individual purchase?
This is presumably something that Apple had to agree to with the record labels. But it's not only on the iTunes Store. I browsed Amazon and saw that some tracks that are even shorter--eight or nine minutes--are not available individually, whereas on some albums, longer tracks can be purchased on their own. On one classical album I saw, which had six tracks, three of them (from 14 to 17 minutes) are available separately, but three others (from 19 to 22 minutes) are not. So on Amazon, the cut-off seems less rigid. If you find a track that's not sold individually on the iTunes Store, check on Amazon.