WWDC 2016 – Apple is finally embracing Not Apple
iOS 10 will break down even more barriers that once stood in the way of third-party apps.
Apple's relationship with Not Apple has always been a little bit tricky. In the darker days, the company needed the support of outside developers in order to keep the lights on and build the popularity of its products and platforms. In the sunnier days after Steve Jobs' return, Apple flexed its muscles more, and looked upon outside companies a little less favourably.
I always got the sense that many people inside Apple during that era, including Jobs himself, saw third-party software and hardware developers as followers riding in Apple's wake and making money off of its greatness. But the announcements made on Monday at Apple's annual Worldwide Developers Conference continue a trend: Apple is embracing Not Apple more than it has in years.
Bridging the walled garden
While Apple opened a door for software developers with the App Store, for much of iOS's history most of the system has been off limits. Initially, apps were islands unto themselves, with little to no way to communicate with one another or integrate with fundamental features of iOS.
Things are changing. In recent years Apple has added photo and sharing extensions to the mix, and the ability to read files from a common location. iOS 10 will break down even more barriers that once stood in the way of third-party apps.
Siri, one of Apple's key strategic features, has been opened to third-party apps for the first time. Apple's starting slow with this one, as it did with background tasks, push notifications and other new iOS features when they were first introduced - only a few types of iOS apps will have access to Siri out of the gate. But it's clearly the start of something much bigger, and it's a decision that will make Siri better, while it also makes apps much more powerful.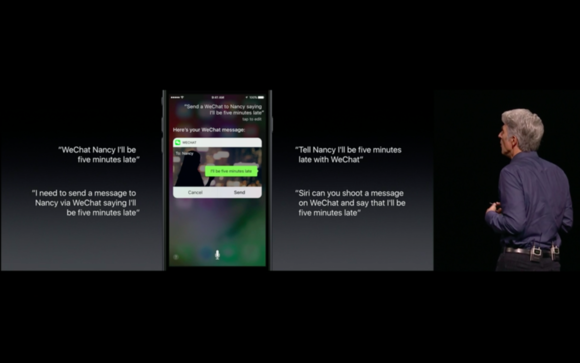 If you're travelling, a mapping app (whether it's Apple Maps or Google Maps or Waze) is more than just a tool to get you from one location to another. It's also an encyclopedia of information about the world around you, at least ideally. In iOS 10, Maps will be open to extensions from other apps (perhaps initially limited to restaurant reservations and ride sharing, but presumably that list will expand over time as well). I can imagine directories of services being able to add their data to your maps, for example.
Then there's Messages, one of the key updates of iOS 10, which offers the ability for third-party apps to insert all sorts of information, from stickers to scheduling to money transfers. There's only so much stuff Apple is ever going to be able to build itself, that third-party app developers will be more than happy to build and insert in an app like Messages. And this is the beauty of Apple opening itself up like this: Apple's own apps get better while developers get access to some of the most important apps and experiences on the platform.