NASA, Google reveal quantum computing leap
In an experiment, a quantum computer outperformed a conventional machine by 100 million times.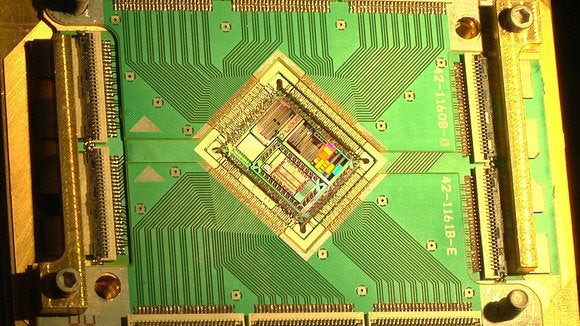 The D-Wave Vesuvius chip that lies at the heart of its 2X quantum computer, on show at NASA's Advanced Supercomputer Facility in Silicon Valley on Dec. 8, 2015. Credit: Martyn Williams
"NASA has a wide variety of applications that cannot be optimally solved on traditional supercomputers in a realistic timeframe due to their exponential complexity, so systems that use quantum effects ... provide an opportunity to solve such problems," said Rupak Biswas, director of exploration technology at NASA Ames.
Details of the test were published on Monday by Google in a scientific paper.
The result is an important one for D-Wave Systems, the Vancouver-based start-up that built the computer. The machine at NASA's Ames Research Center is one of three that D-Wave has built. Another is at Los Alamos National Laboratory and the third is owned by Lockheed Martin and used by the University of Southern California.
When the first results from the D-Wave computer at NASA were published, there was significant debate about whether the machine was outperforming conventional computers. But the first-generation system was based on 512 qubits, and it's now been upgraded to 1,097.
The Google research paper hasn't been peer reviewed, so scientists have yet weigh in on the latest results.