A week with Feedly: A Google Reader junkie's journey
After an extended test drive, a longtime Reader addict finds Feedly to be a more-than-serviceable replacement.
Like many RSS junkies, I reacted with shock, anger, and anxiety to the news that Google will kill Google Reader on July 1 of this year.
I love Google Reader--far more than a grown man should love any Web application in the full knowledge that it can never love him back. But alas, we must bear our disappointments and move forward.
To that end, I decided to try my luck with Feedly, a service that has quickly grown to prominence as the go-to replacement for Reader. After a week of test-driving the service in its Web and app versions, I have found it to be a serviceable--and in many ways, superior--replacement for my soon-to-expire Reader.
A strange, alluring new landscape
Moving from Reader to Feedly was surprisingly painless. A few clicks imported all of my Reader content (both feeds and subfolders) into Feedly, following a quick authentication process. One thing to note: If you leave pinned tabs open during long periods of inactivity, Feedly will occasionally deauthorize them. But since authorizing via Google is easy enough, this behavior wasn't a big problem for me.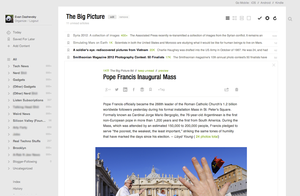 Feedly: my new Internet crush.
The team behind Feedly has placed a welcome emphasis on design. Whereas Reader is functional and utilitarian, Feedly is silky-smooth and modern. Initially, Feedly's interface seemed quite alien to me, but I quickly adapted my habits and made the space my own.
Many users will enjoy Feedly's magazine-like, image-centric display options. Not me. When plowing through content, I was drawn to the minimalist Titles view (you can alter this view in the little gears icon in the top right corner).
Titles is the just-the-facts-ma'am view that, like Reader, presents the headlines chronologically by publishing date. Most Reader fans will find this the most familiar and comforting landscape.
Optimizing real estate
One of Feedly's best design innovations was its decision to keep the subscription list hidden until the mouse hovers over the three-line icon at the top left. I didn't feel at ease with this feature right away, but it turned out to make a big difference.
The subscription list commands a big chunk of the screen, so freeing up this real estate leaves far more room available for importing images and text. The result is a clean user interface that makes Reader's version seem downright sloppy.
Feedly further optimizes space by placing the share, hide, and bookmark buttons in a menu that pulls out from the right side when the mouse hovers over a post.
After clicking a post, you'll see a number of well-integrated options, including bookmarks (a feature that functions in the same way as Reader's starring posts), social sharing, tagging, and even a link shortener. On the top right, another hidden menu (unveiled by hovering the mouse over an arrow icon) contains options for shipping the story to read-it-later apps such as Evernote, Instapaper, and Pocket.