Don't let Facebook's single sign-on expose your awkward moments
Sites and apps are adding the ability to sign in through Facebook, Twitter, and Google+, but people should be wary of sharing their private lives with big brands.
"To get the seal, I have to promise the consumer, 'I'm on the hook for deception; I'm legally committed to what I say,'" says Future of Privacy Forum director Jules Polonetsky. "We have the ability to remove the seal and report that [to the Federal Trade Commission]."
Gigya CEO Patrick Salyer told TechHive that consumers are 18 percent more likely to log in to a site with their Facebook or Twitter accounts when they spot the seal.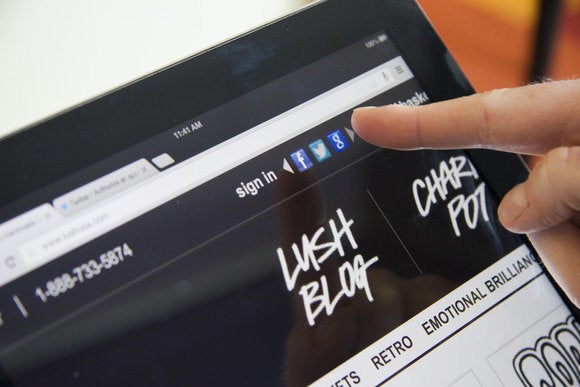 You can log in and shop on Lush Cosmetics' site using your Facebook or Twitter account.
Sharing is caring
Retail brands, app developers, and video game platforms love social logins. They can find out who you are, as well as who your friends are, based on information you've added to your social network profiles over the years. That info makes it easier to sell you stuff.
But social logins can also be helpful for users, if you don't mind sharing some of your information. (Of course, if you do mind, signing in with your social account is always optional.)
"For the consumer, the sign-up process becomes much quicker and easier," says Michael Olson, product marketing manager for social-identity site Janrain. "It eliminates the need to create yet another password. From the website's perspective, they're improving conversion rates and collecting richer profile data, with permission."
Security is a huge issue when it comes to social logins. Most of us use the same password across multiple sites, which security experts say is the worst possible thing you can do if you want to prevent hacking. Social logins can be more secure if you have an impenetrable password, or if you change your password frequently. (Note, though, that you still have security issues if you use the same social-login information across multiple sites.)
"The pain of having to create yet another username and password is a big deal," Gigya's Salyer says. "It's a huge pain point, and a growing pain point for mobile."

MICHAEL HOMNICK. Signing up for apps on your tablet or smartphone is easier with social logins, says Gigya CEO Patrick Salyer.
If you want to buy something on your tablet quickly, but you have to register for a new account on the e-commerce site, you might just give up halfway through the process and abandon your shopping cart. According to Gigya's research, people who use social logins are five times more likely to make a purchase. It's just easier.
When you log in to a site with your Facebook, Google+, or Amazon account, you're also getting more-personalized results. Future of Privacy Forum's Polonetsky says he uses social logins on sites like TripAdvisor or Yelp to see what his friends like or recommend.