How to be awesome on Twitter in 5 steps
Twitter's new features are making the network more welcoming to newbies, but there are some pitfalls to watch out for.
I personally like using the service If This Then That to automatically file my favorited tweets into an Evernote notebook. This way, I can easily search them later. (Twitter's search function with regard to your own tweets and favorites is severely lacking.) Here are recipes on If This Then That for filing favorited tweets to an Evernote notebook and for filing your own tweets to an Evernote notebook, which is infinitely easier and quicker than requesting your Twitter archive and searching it.
One downside to favoriting: It's public, and so it'll show up in the Tweetdeck Activity feeds of anyone who's following you on Twitter. If you don't want people seeing what you endorse or pay attention to, think twice about favoriting.
Tip #4: Use a Twitter client instead of Twitter.com
Using a Twitter client like TweetDeck is a great way to sift through and categorize all the different Twitter feeds you follow. The bonus of using a client like TweetDeck is that you can add something called the Activity Feed, which shows you what everyone you follow is up to – who they're following, what they favorite, who they add to their lists (and what their lists are).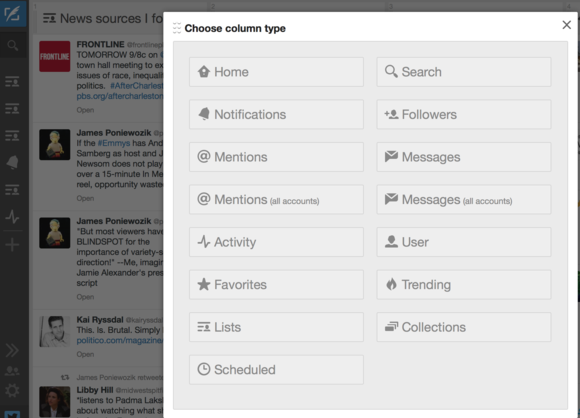 Click the plus sign in TweetDeck to add columns that let you sift through the medium. Activity is great for seeing what my friends are up to.
Why would you do that? Because it's a great way to get introduced to new feeds that you're not yet following, to see what topics are quietly percolating up through people's streams, and to generally see more of Twitter through the trusted filter of the people you already know and pay attention to.
Tip #5: Think about your definition of "sensitive"
Twitter offers you the option to be warned of tweets with "sensitive" media, and to have your tweets carry a warning if they contain sensitive material. It's worth noting that Twitter considers "nudity, violence or medical procedures" to fall under the umbrella of "sensitive" content.


Find the option to be warned—or warn others—of sensitive materials in your settings.
If you're concerned you might put people off by live-tweeting your naked rugby league's brutal matches and subsequent DIY first aid, maybe consider going to your account settings, looking under content, and checking the option that marks media you tweet as containing sensitive material.
Kidding aside, be aware that you may lose followers if you post things that upset or unnerve people. And it's up to you to accept that your right to post whatever you want is counterbalanced by people's right to unfollow or block you. There are consequences for tweeting. So long as you are aware of these and you have an idea of when you're willing to assume those consequences, you'll be fine.