Maxthon MX5 review: Rough-and-ready browser offers paid features for free
Strong performance, plus password management and "shadow email," make the free browser worth a download.
Smaller niche browsers such as Maxthon have to do more than their larger rivals just to be recognized, let alone downloaded. Maxthon's MX5 browser offers free features that you'd normally pay for, like password management—and that alone makes it worth checking out.
(Editor's Note: We were informed Wednesday, July 14 that Maxthon isn't prepared to release MX5 today as planned, for reasons that were not explained. Our review code was obviously given us before the browser's final release.
After we wrote our review, serious security concerns have also come to light regarding user data sent to Maxthon. You can read the report for yourself, but the bottom line is this: whether or not you agree to participate in the "user experience" program to improve the browser, an earlier version of Maxthon's browser allegedly sends your entire browsing history, a list of all software installed on your machine, and other details of your PC to a Maxthon server in China. Note that we did ask CEO Jeff Chen if data is passed to China, and he denied it. For now, we'd recommend that you hold off from downloading MX5, even when the browser becomes available.)
You're forgiven if you've never heard of Maxthon: The company releases major updates to its browser every two years or so, with an emphasis on cloud data that debuted in conjunction with its 2014 release, Maxthon 4. The company doesn't register on NetApplications' list of the top browsers, falling somewhere into the last 0.14 percent of the browser market under "other."
That isn't stopping Maxthon chief executive Jeff Chen. The goal of the new browser, he said, was to provide an "information assistant" with three key features: an "infobox" to save web pages to the cloud; a Passkeeper password vault; and UUMail, a way of developing email aliases or "shadow email" addresses to insulate you from spam.
As before, Maxthon uses both the Trident and Webkit rendering engines in a bid to render older and newer web pages efficiently. But it's the additional value-added features that the company wants to make its selling points.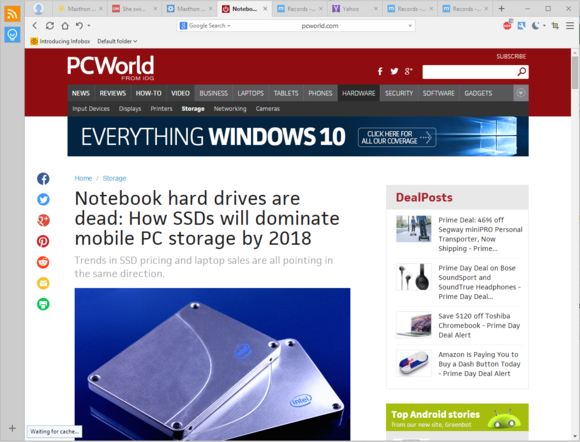 Maxthon may look a little rough around the edges, but it renders Web pages quick and accurately.
A 1986 Ford Mustang for the Web
Maxthon's not the most polished of browsers: Spelling errors crop up in various menu and settings pages, and the browser's homepage when you first launch it provides a rather clunky collection of news and top sites. The alpha version of the browser that Maxthon provided me slyly tried to install itself as my preferred browser by default, and wedged itself into my taskbar. Its terms of service forbid you from blocking its own advertising (which, to be fair, I barely saw, save for a "shopping" box on the home page, plus one banner ad farther down.)