Maxthon MX5 review: Rough-and-ready browser offers paid features for free
Strong performance, plus password management and "shadow email," make the free browser worth a download.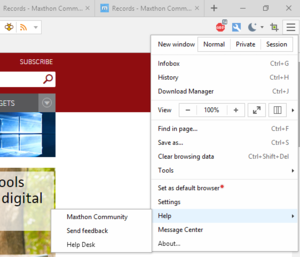 Icons for Adblocker Plus, developer tools, the night mode, and Snap hide in the upper right.
Once you've pulled out of Maxthon's garage and onto the information superhighway, however, Maxthon's MX5 provides a sturdy, speedy vehicle for navigating web pages, even if it feels a bit hastily put together at times. Maxthon did have problems with some Flash-heavy games I tried to load, crashing once, but otherwise didn't seem to have any issues.
Overall, the UI feels fairly intuitive. When you dig deeper, things get a little complicated. For one thing, though Google's Chrome browses with HTTPS enabled, Maxthon doesn't, and that might worry security-minded users. Importing bookmarks and other data from other browsers isn't all that intuitive (go to to the three-bar menu icon in the upper right, then Tools > Import User Data, then select the other browser). Private browsing is included, and launched via a new window. As for help, well, you're sort of on your own, as both the "Help Desk" and "Maxthon Community" take you to a community forum page.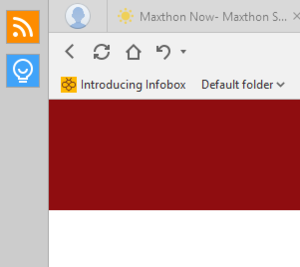 You can set a sidebar with some quick actions, if you'd like.
Ad blocking has been a staple of the platform for over five years, and Maxthon built Adblock Plus into the new version. That ensures browsing is just as fast as any other browser's: Web pages were responsive in under two seconds, which is very good—and the browser itself consumed about 528MB of memory with only five tabs. That's the typical amount of memory consumed by three browser tabs, based on the browsers I tested in conjunction with Vivaldi's release earlier this year. But those browsers did not have ad-blocking baked in, either.
There's a wealth of interesting little features under the hood, and that's even before you start poking around the new stuff. Developer tools let programmers view pages on a number of simulated mobile devices. A night mode dims the display to minimize eyestrain. Click the RSS icon on a web page, and MX5 helpfully directs you to the Feedly RSS reader. You can set a small sidebar column with icons to trigger actions, though Opera or Vivaldi do a better job here. About the only feature I could do without is Snap, which zooms in to an extreme level to allow those with poor eyesight to interact with a small section of the page.
Maxthon even has extensions, which appear to be custom-crafted for the browser itself. The most useful seem to be bundled with the browser, including a translation tool. The Maxthon extensions web page offers dozens more, including ones for Twitter and YouTube. Unfortunately, Maxthon sprinkles in warnings about downloading malicious extensions, and it's sort of hard to believe that anyone would believe that an Angry Birds Go extension is really just 5KB in size. (In fact, it's just a spammy ad.)
Previous Page 1 2 3 4 5 Next Page